You're invited on the Bali Body Love Adventure with Annette and Megan. Your hosts have curated an empowering and adventurous trip for anyone who likes to explore. On this Premium Intrepid Adventure, you will stay in comfortable 4-star hotels and villas where breakfast is included every day. We will primarily use private transportation and have a local guide along with two fabulous hosts (us)!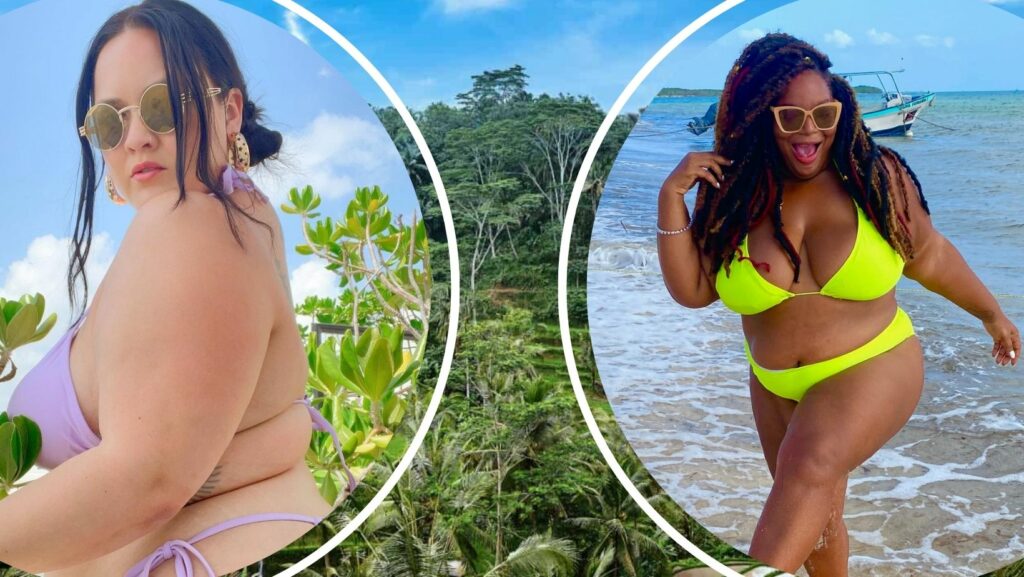 This trip is perfect for couples and singles interested in experiencing Bali with a fat-positive travel community. One day you will treat your spirit to a session with Balinese Healer Jro Wayan Nuriasih from the movie 'Eat, Pray, Love' and a purification ritual at Tirta Empul Temple. The next day you will pamper your body with a relaxing soak in a floral bath followed by a soothing massage.
This trip will also include a sex-positive atmosphere and focus on activities and workshops that will help us explore and enrichen our relationships with our bodies and ourselves. More details to follow, but as always our environment and trip will include inclusivity and consent.
When: December 9-16, 2022
Where: Bali + Gili Trawangan, Indonesia
Price: $2300 USD
Reserve your spot today. There are only 12 spots available on this fat positive adventure.
What's Included: Fat-friendly itinerary curated by your hosts, 7 nights Hotels in 4 Star Hotel/Villa, 7 Breakfasts, 2 Dinners, workshops, admission fees to included activities, daily transport, English-speaking local guide, and arrival and departure transfers.
What's Not Included: International Flights, International airport departure tax, any Visas required, services not mentioned in the itinerary, late check out at hotels, Meals and drinks not mentioned in the itinerary, drinks with included, lunches and dinners, Tips for leaders, guide and driver, personal expenses, Travel Insurance, and Optional activities.
Day 1: Uluwatu Temple + Beach BBQ
Welcome to Bali! Upon arrival, you will be picked up by your driver and transferred to your hotel in Kuta. Here you will have some time to rest and unpack at the hotel before meeting us, new friends, and our guide for a welcome meeting. Afterward, we will all head to the very South of the island to Uluwatu Temple for Kecak Dance with the beautiful sunset as a backdrop.
It's important to wear appropriate clothing and to dress modestly and respectfully entering any sort of religious establishment. Everyone visiting Balinese temples is expected to wear shirts that cover their shoulders and upper arms and to cover their legs with a sarong or temple scarf.
After the Kecak Dance, we will head north for approximately 30 minutes to Jimbaran Beach for our Welcome Beach BBQ and group games.
Included Meal: Welcome Dinner
Included Activities: Visit Uluwatu Temple, Kecak Dance at Uluwatu Temple, Welcome BBQ.
Accommodation: The Vira Bali Boutique Hotel & Suite
---
Day 2: Beach Day
After checking out from the hotel we will head to the busy beach town Seminyak for a relaxing lounging under a beach umbrella with coconut or cocktail in hand.
Next, we'll stop at one of the best brunch spots in Bali for a delicious and Instagrammable meal before heading north to Ubud.
Upon arrival in Ubud, you will be free to shop, rest, or relax for the remainder of the day.
Included Meal: Breakfast
Included Activities: Chilling at Double Six Beach
Accommodation: Ubud Wana Resort
---
Day 3: Pool Day + Bali Swings
We will begin the day by the pool at Cretya Ubud with Tegallalang Rice Terrace in the background. Those who choose can take photos on the terrace, on an infamous Bali Swing, or in a Nest.
After returning to the hotel those who would like can visit The nearby Sacred Monkey Forest.
Included Meal: Breakfast
Included Activities: Pool Day at Cretya Ubud, Workshop
Optional Activity: The Sacred Monkey Forest
Accommodation: Ubud Wana Resort
Special Information: Please note that The Sacred Monkey Forest, Bali Swings, Nests, and other things during the visit to Cretya Ubud are not included. It will be on a personal account, at your own risk.
---
Day 4: Healing & Purification
Today we will focus on our spirit. After breakfast, you will have a private yoga class in an air-conditioned room at Yoga Barn.
Later we will have a session with Jro Wayan Nuriasih, the world-famous healer from the "Eat, Pray, Love" movie. Finally, we will visit Tirta Empul Temple for a purification ritual.
Included Meal: Breakfast
Included Activities: Private yoga class at Yoga Barn, Visit Jro Wayan Nuriasih (Balinese Healer from Eat, Pray, Love movie), Visit Tirta Empul Temple.
Accommodation: Ubud Wana Resort
---
Day 5: Body Work
Today we will focus on our bodies. After breakfast, we will get our bodies moving with a morning stretch. Then we will enjoy a relaxing soak in a floral bath at Udaya Spa followed by a soothing massage.
Next, we will feed our bodies and brains by learning traditional Balinese cooking techniques. After dinner we will end the night with a workshop that will sharpen all five of your senses.
Included Meals: Breakfast & Dinner
Included Activities: Massage and Floral Bath at Udaya, Cooking Class + Dinner, Workshop.
Accommodation: Ubud Wana Resort
---
Day 6: Travel Day to Gili Trawangan
Today we will travel 4 hours from Ubud to Gili Trawangan which includes a stop in Padang Bai. We will take a fast boat to Gili Trawangan Island where beautiful white sand and a paradise of turquoise ocean await.
After you unpack, explore, and get some rest on a new island you're invited to join our pool party!
Special Information
There is no motorized vehicle available on the island. So you will need to carry your luggage from the port to the hotel. Walking or using a bicycle is the only option to explore the island.
Included Activities: Pool Party
Included Meal: Breakfast
Accommodation: Villa Ombak Gili Trawangan
---
Day 7: Snorkeling in Gili Trawangan
Get ready to explore Bali's beautiful marine life on a snorkeling trip around the crystal waters of Gili Trawangan. After being fitted for snorkeling equipment, head out on a motorized wooden boat around the Gili Islands and catch colorful fish and sea turtles in the water.
Included Activities: Snorkeling at Gili Island, Farewell Ceremony
Included Meal: Breakfast
Accommodation: Villa Ombak Gili Trawangan
---
Day 8: Departure Day
Goodbyes are never easy so today we'll say see you later! The Boat will depart from Gili Trawangan at approximately: 12:30 PM and arrive in Serangan Port (Bali) at approximately 4 PM. The earliest you will arrive at Ngurah Rai International Airport is approximately 7 PM.
Included Meal: Breakfast
Special Information: Departure Transfer is on the Individual basis.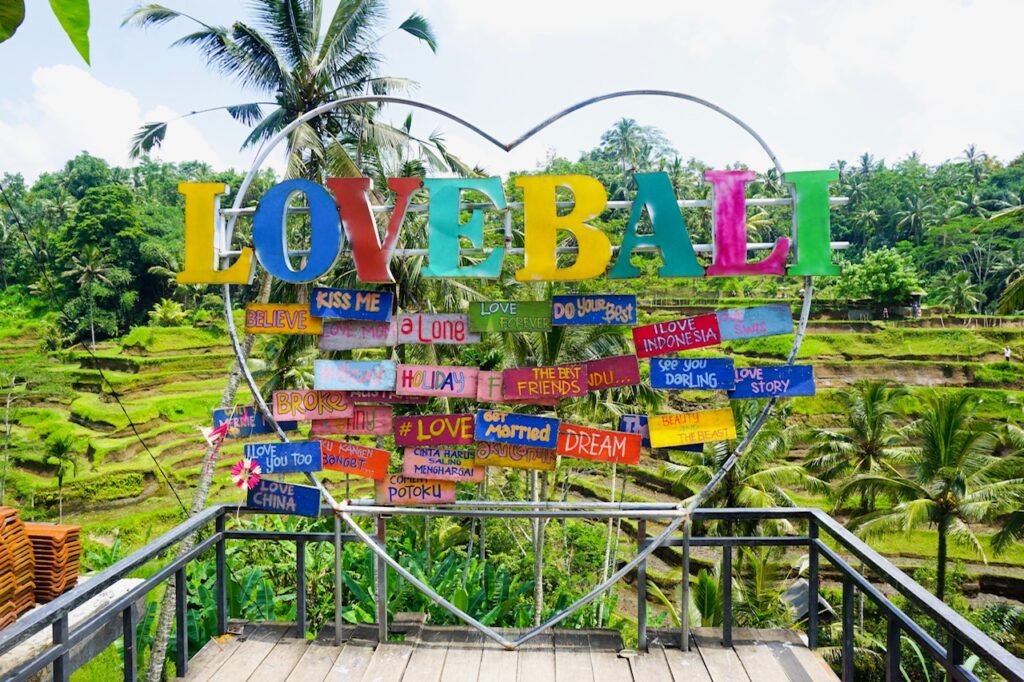 ---
Learn About The Ispiration For This Trip.
Be sure to check out Group Trips and other Fat Positive Events!
Bali Body Love 2019