Challenges Faced by plus-size travelers

Flying can be a daunting experience, especially for those who are plus-size or have a larger body. Unfortunately, airlines have often neglected plus-size passengers' needs, leaving us uncomfortable and frustrated. However, Southwest Airlines has taken a proactive approach to creating a more inclusive and comfortable travel experience for all passengers by implementing a Customer of Size policy which provides an extra seat for free. Navigating Southwest Airlines' Customer of Size policy is a game-changer for plus-size travelers. Utilizing these tips have not only made my travels more comfortable but also empowered me to travel more confidently as a plus-size person.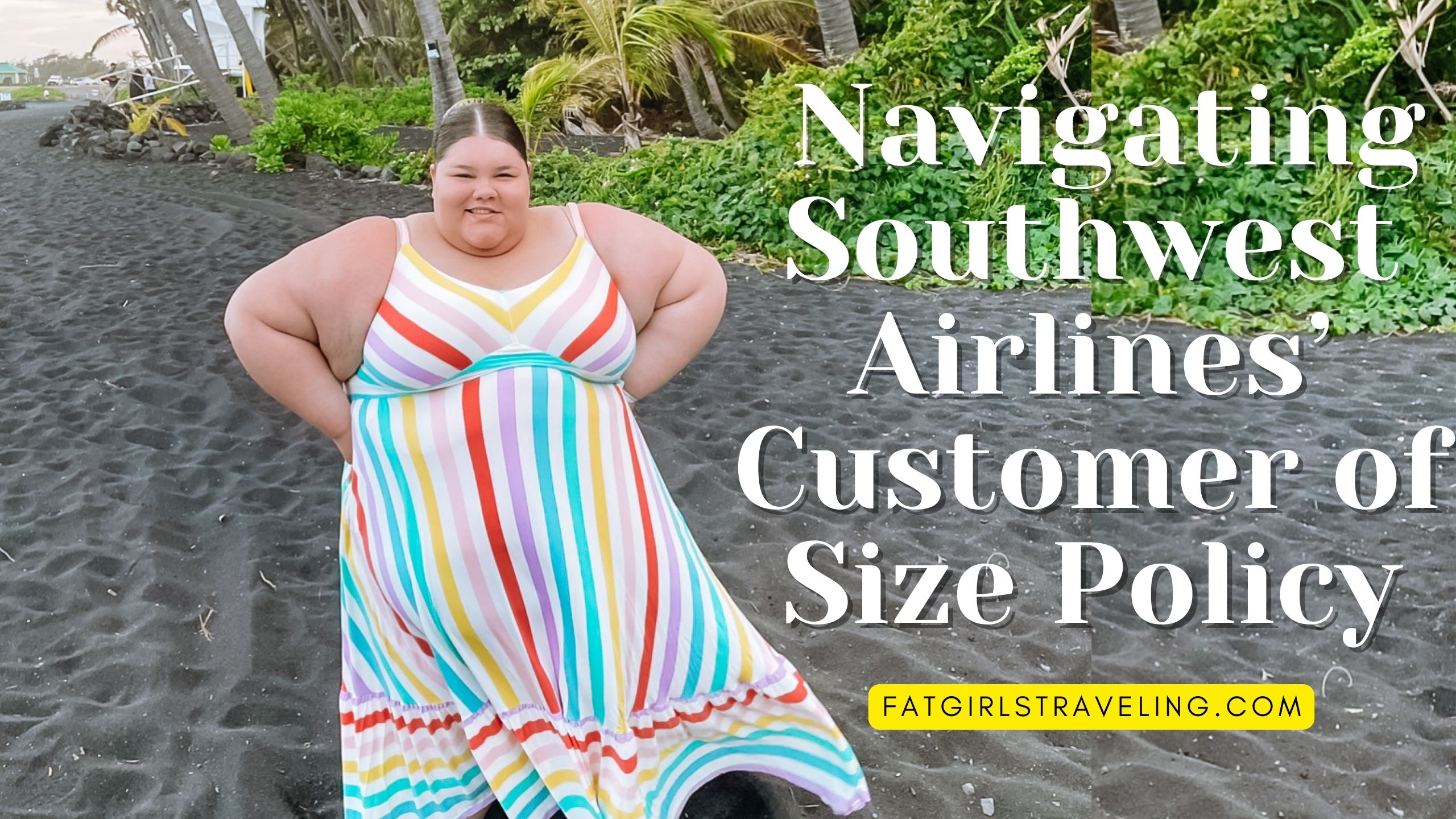 What is Southwest Airlines Customer of Size policy?
The term "Customer of Size" refers to passengers who may require additional space on a plane due to their body size. Southwest Airlines recognizes this and has implemented a policy to ensure all passengers have a comfortable and safe flight experience.
Southwest Airlines defines a Customer of Size as someone who "encroaches upon any part of the neighboring seat." This means they require more space than the average passenger to sit comfortably in a single seat. This could be due to various reasons, such as being taller, having broader shoulders, or simply having a larger body size. The policy acknowledges that not all passengers have the same body size or shape and that some require more space to travel comfortably. The goal is to create a more inclusive and comfortable environment for all passengers, regardless of size.
How to Use Southwest Airlines Customer of Size Policy:
There are two ways to use the Southwest Airlines Customer of Size policy, and choosing the right one is important. The first method is to purchase two seats while booking your flight. This is recommended as it guarantees two seats next to each other, ensuring a comfortable journey. Then, once you have completed your travel, you can request a refund for the second seat.
The second method involves requesting a free second seat when you get to the gate on the day of your flight. However, this method involves risks, as the additional seat is not guaranteed if the flight is full. If you choose to use the second method, arriving at the airport early is essential to ensure you have enough time to request an additional seat and make alternative arrangements if necessary.
The Southwest Airlines Customer of Size policy is essential to the airline's commitment to providing a safe and comfortable travel experience for all passengers. By offering a second seat to customers of size, the airline maintains its safety standards and ensures that all passengers can travel comfortably.
Step-by-step instructions for booking a second seat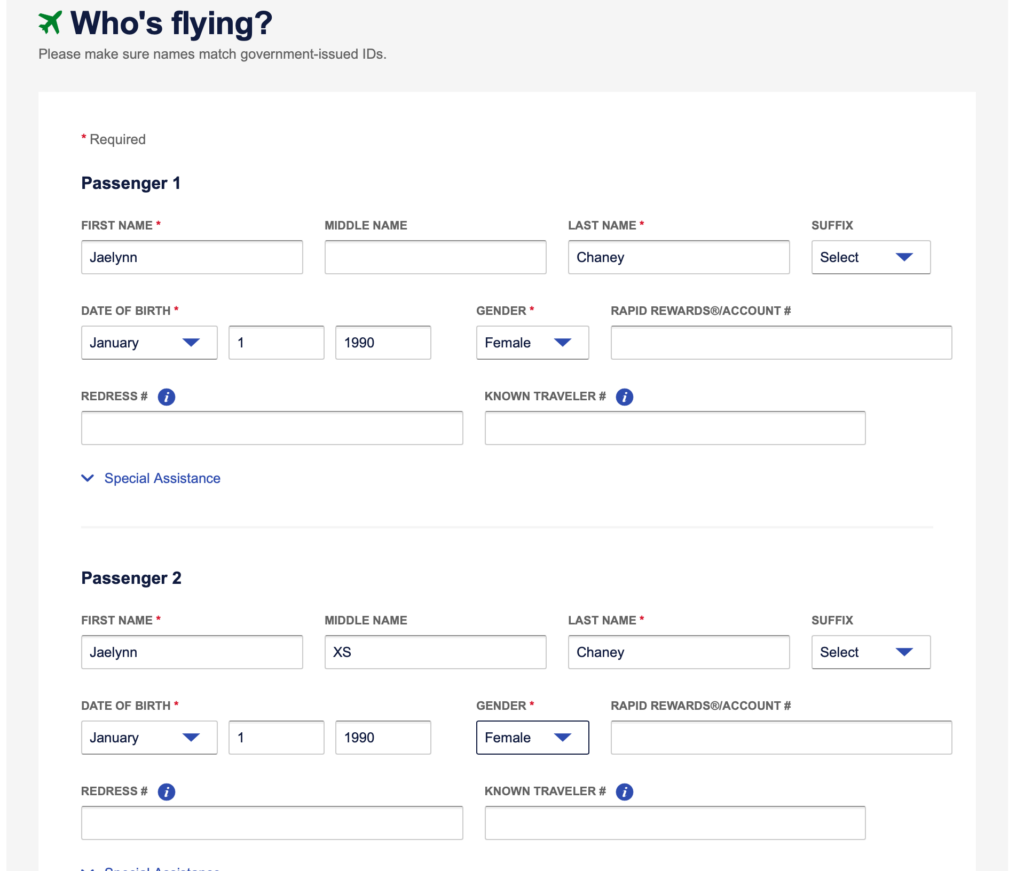 Are you ready to book a second seat on Southwest Airlines? The process is straightforward, whether you choose to do it online or over the phone. Follow these simple steps to book your additional seat online:
Visit the Southwest Airlines website and enter your travel details, including departure and arrival cities, travel dates, and the number of passengers traveling. Then choose the flight that best suits you and your needs.
Select the "2" passengers option, as each additional seat counts as an extra passenger.
Fill in your personal information for the first traveler as you usually would
When you reach the section asking for the second traveler's information, enter your first name, middle name (if applicable), and the letters "XS" after your middle name. If you don't have a middle name, simply enter "XS" in the middle name section and enter your last name.
Continue with the booking process as usual, be sure to request any special assistance you might need by clicking the Special Assistance drop-down menu, and you're done!
While booking online has advantages, such as convenience, you can also book over the phone by calling Southwest Airlines Customer Support Services at (800) I-FLY-SWA (800-435-9792).
To ensure a successful booking experience, double-check your personal information before submitting, and be aware that you may be denied boarding if the flight is full and you didn't book a second seat in advance.
Booking a second seat on Southwest Airlines is quick and easy. Following the steps outlined above and keeping these tips in mind, you can book your additional seat and confidently enjoy a comfortable flight.
What to Expect at the Airport
Checking in with Two Seats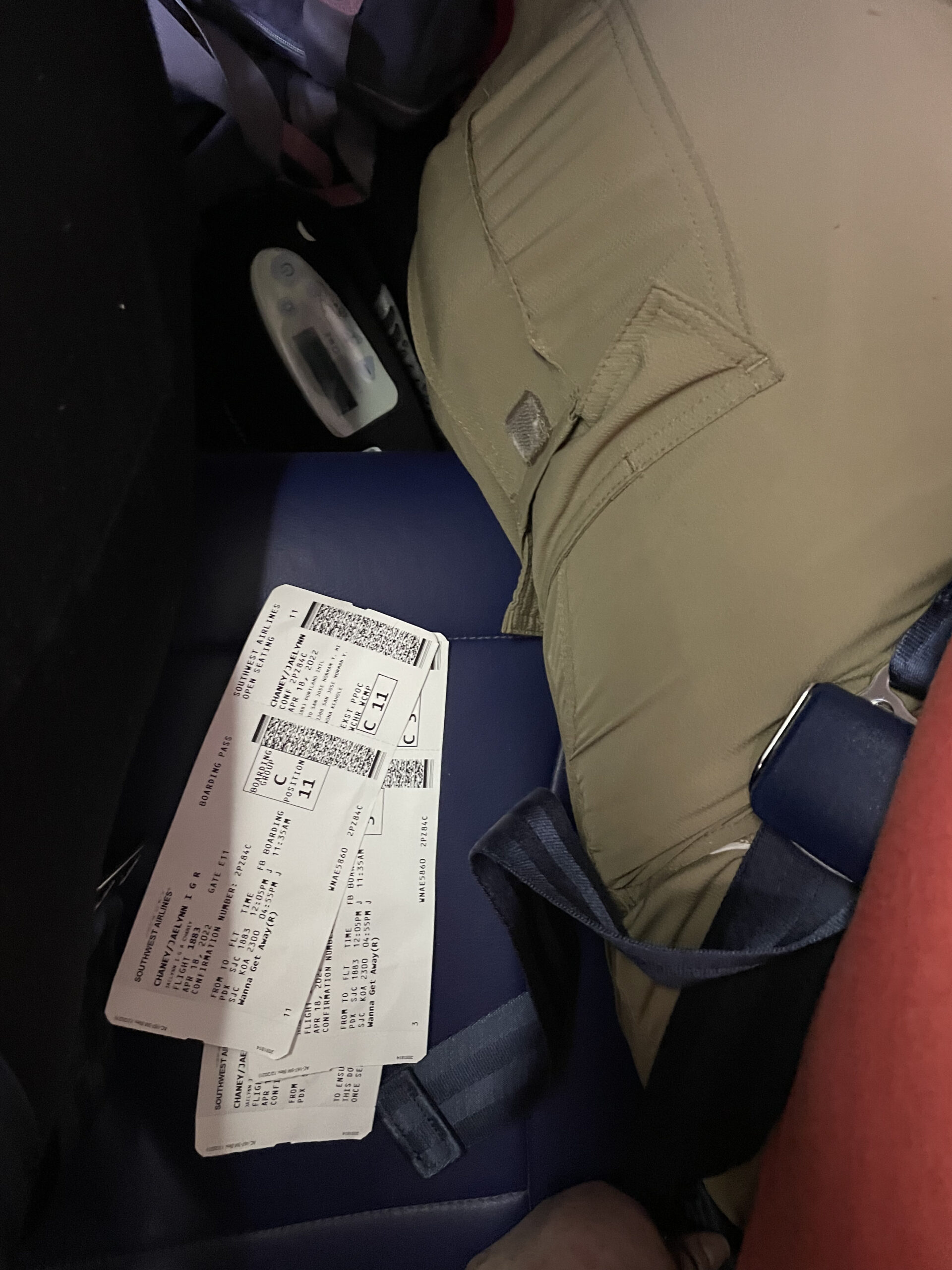 If you plan to check in with two seats, there are a few things to remember. First, once you arrive at the airport, you must go to the ticket counter and present your boarding pass and the confirmation for the second seat. This will allow you to receive your boarding passes and proceed to the gate for boarding.
It is essential to ask for a Seat Reservation Document and a Refund Advice Slip from the ticket agent. You will place the Seat Reservation Document on the additional seat to show other passengers the seat is reserved. At the same time, the Refund Advice Slip provides information on the airline's policy for refunding the cost of the second seat if you purchased your second seat independently.
Airport Assistance

Travelers who require assistance at the airport can request it when booking their flight online or over the phone at least 48 hours before their flight, free of charge. Allowing the airline to make the necessary arrangements. If assistance is required unexpectedly, it can also be requested at the ticket counter upon arrival. When requesting assistance, it is crucial to be specific about your needs so that the airline can provide the appropriate level of assistance.
For example, if you require a wheelchair, make sure to mention this and provide any necessary details, such as whether you can transfer yourself to the wheelchair or if you need assistance. Arriving early is also recommended to allow sufficient time for assistance, making for a safer, more comfortable, and stress-free travel experience.
Boarding Process

Southwest Airlines allows customers of size to pre-board before the general boarding process begins. This will give you extra time to settle into your seats and ensure you are comfortable before takeoff. It is important to follow general boarding etiquette, including placing any carry-on items in the overhead bin or under the seat in front of you. Since Southwest Airlines has an open seating policy, you can select any seat you're comfortable with. After boarding the plane, passengers using the Customer of Size policy should place their reserved seat pass on the additional seat they choose. This will clearly indicate to other passengers that the seat is taken and help avoid confusion or misunderstandings.
Requesting a Seatbelt Extender

It's important to request a seatbelt extender if you require one, ensuring you are safe and comfortable throughout the flight. When you board the plane, inform a flight attendant that you require a seatbelt extension. All Southwest Airlines flights have seatbelt extensions available, so you don't have to worry about requesting one in advance. It's important to note that bringing your own seatbelt extender onto the plane is prohibited by most Airlines, as the FAA states they are not liable for your safety if you use your own seatbelt extender. This is because the only seatbelt extenders the FAA endorses and tests regularly are those provided by the airlines.
Let's normalize asking for a seatbelt extender while traveling. It's a common need for many travelers and nothing to feel ashamed about. As passengers, we all deserve to travel comfortably and safely, and it's okay to ask for what you need to make that happen. Don't hesitate to request a seatbelt extender or any other accommodations that can make your travel experience more enjoyable.
If you prefer to make the process more discreet, we recommend requesting the seatbelt extension as soon as you board the plane. This will help you enjoy your flight with ease and safety. Remember, the flight attendants are there to assist you and should treat you with the same respect and courtesy as any other passenger.
With the proper preparations and communication, your travel experience using the Customer of Size policy can be as safe and comfortable as every other passenger.
Watch how to book your ticket using Southwest COS policy:
Have you used this policy before? Share your own tips and experiences below.