Today I'm sharing a few additional tips for flying with Southwest Airlines as a Customer of Size and hopefully encourage you to book that flight and explore the world a bit more! Recently I shared why I think navigating Southwest Airlines' Customer of Size policy is easy. Along with tips on how to book an additional seat for free. In that guide, I talked through each step of the process and even shared a video that shows how you can book it online! I also shared some travel tips and stories on the Fat Girls Traveling Podcast.
What is the COS policy, or the Customer of Size policy?
The term "Customer of Size" refers to passengers who may require additional space on a plane due to their body size. Southwest Airlines recognizes this and has implemented a policy to ensure all passengers have a comfortable and safe flight experience.
Southwest Airlines defines a Customer of Size as someone who "encroaches upon any part of the neighboring seat." This means they require more space than the average passenger to sit comfortably in a single seat. The policy acknowledges that not all passengers have the same body size or shape and that some require more space to travel comfortably. The goal is to create a more inclusive and comfortable environment for all passengers, regardless of their size.
Tips for Flying with Southwest Airlines as a Customer of Size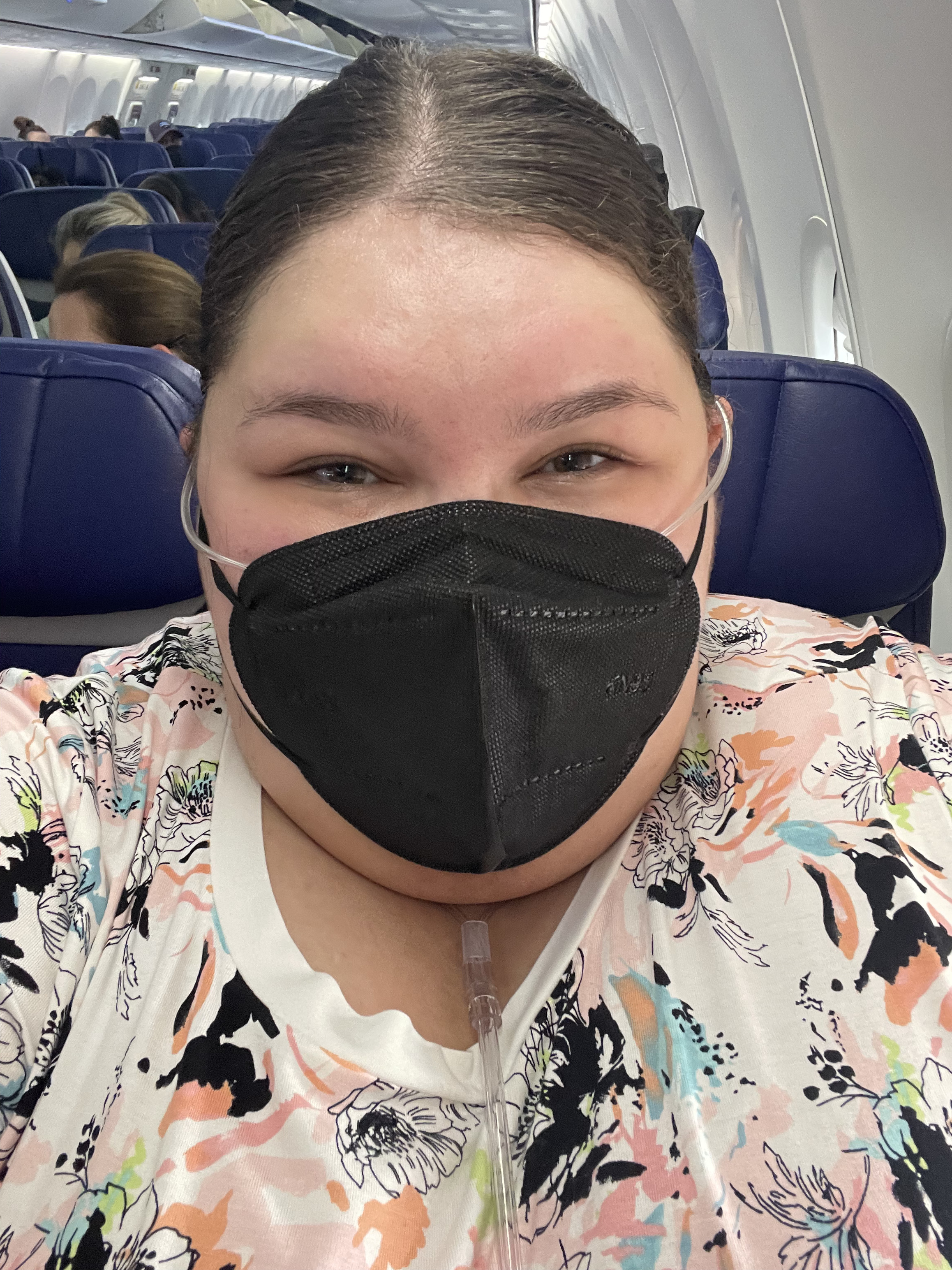 Book Your Flight Far in Advance
Maximize your chances of getting available seats by being strategic with your flight booking. Booking in advance is key, as it increases your odds of finding the seats you need. Don't be afraid to explore alternate travel dates or airports for more options. Steer clear of peak travel times, like holidays and weekends, when seats are in high demand. Choosing flights outside these busy periods boosts your chances of finding available seats. If you can't secure a second seat on your preferred flight, don't fret!
PSA: You can still use the Customer of Size policy to request an extra seat at the gate or ticket counter. Keep in mind that this option is less certain and may mean adjusting your flight time or taking a later flight. Stay flexible and open to possibilities!
Check-in at Ticket Counter
If you are a traveler using the Southwest Customer of Size policy, we highly recommend checking in at the ticket counter with a live agent rather than using the self-serve kiosk. While the self-serve kiosks are convenient for many travelers, they may not be the best option for those who need a second boarding pass, a seat reserved pass for their additional seat, and a refund advice slip. Don't be afraid to seek assistance from a Southwest Airlines staff member if you encounter any difficulties.
Handling Questions About Your Second Seat
If a gate agent approaches you to inquire about your second seat when using Southwest Airlines' Customer of Size policy, be honest and upfront about your needs. Have all of your documentation ready and easily accessible. Stay calm and courteous, and show the gate agent your printed documentation, including your boarding passes, seat reservations, and refund advice slip. Answer any questions truthfully and respectfully. Remember that the gate agent is just doing their job, and verifying your second seat is not meant to be a personal attack. By following these tips, you can handle the situation calmly and confidently.
Finding the best seat on the plane as a Customer of Size
When looking for extra legroom on a plane, bulkhead seats at the front are a popular choice. However, not all bulkhead seats have adjustable armrests, which can be uncomfortable for some passengers. In such cases, it's recommended to search for a row near the front with adjustable armrests that can provide additional space. Not all seats will be suitable for everyone, so it may require some experimentation to find a comfortable seat. If you're having trouble finding the right seat, don't hesitate to ask a flight attendant for help. They can offer suggestions for alternative seating options.
Tip: Visit SeatGuru to view the airplane seat map. Each seat has details that will allow you to find the best options.
Handling Uncomfortable Situations as a Customer of Size
In cases where airport or airline staff may need help understanding the Customer of Size policy, it can be helpful to have a printed copy of the policy with you to provide clarification. The policy clearly outlines the procedures and accommodations available for passengers who require additional seating for comfort. If you feel uncomfortable or have concerns, communicate with Southwest Airlines staff.
Seat Reservation Pass and Someone Asking If the Seat Is Taken
Keep your seat reservation pass with you throughout your journey. If someone asks if the seat is taken, show them your pass to confirm your reservation. Seek assistance from a Southwest Airlines staff member if you encounter any difficulties.
Book the flight
Between the guide and the tips above, I hope you are feeling confident to book your next trip and utilize Southwest Airlines Customer of Size policy. It really can be a positive and comfortable experience with the right preparation and understanding of the policy. By booking your flight in advance, checking in at the ticket counter, handling inquiries from gate agents confidently, and finding the best seat on the plane, you can ensure a smoother journey. Remember to stay calm, communicate your needs clearly, and seek assistance when necessary. With these tips, you can confidently navigate your travel experience and enjoy exploring the world with Southwest Airlines. Happy travels!