Are you heading to Edinburgh soon or not sure if it is fat-friendly enough? If you have always wanted to visit one of Europe's most charming and beautiful cities, then let me encourage you to go as this fat girl loved it!
With Edinburgh Castle towering over the city, and two distinctive parts of a city full of new and old it is a city full of juxtapositions. Neo-gothic buildings are next to new builds. One second you can be eating a breakfast of avocado toast and enjoying an oat flat white to touring a graveyard that inspired names in a little series you might have heard of… Harry Potter. All within seconds of one other.
Edinburgh is a compact yet big city that has something for everyone of every size.
Tips for Travelling while Fat in Edinburgh
Edinburgh is a historic city but has plenty of modern amenities that make it easier to navigate if you have mobility or accessibility issues. Here are my top tips for travelling while fat in Edinburgh:
Stay at a hotel that is near a majority of what you want to do
Download the Uber app for easy transport links
Comfortable shoes are a must
The sidewalks are not very narrow so you have space to walk and if you need a walking stick, it might be helpful for the cobblestones or hills
Wear layers, you might get warm walking around but once you reach your destination the wind can get to you
Give yourself time to rest and be easy on yourself
Book a sightseeing tour to save your energy for activities
Get a sim card so you can use GPS and navigate the city at your own pace
Getting to Edinburgh
There are flights to Edinburgh from all around the world and easy links to get to the city. You don't need a car for your time in Edinburgh as the city is walkable but uber is also a cost-effective transport around the city.
If you're coming from the UK or Glasgow you can always take the train which is what I did. There are daily trains throughout the day and I recommend booking ahead to save money! There are other direct trains from major cities across the UK so you can plan to visit more cities if you'd like.
Plus Size Train Tips
Personally, I love travelling by train as I prefer the space, views and not having to make my way to an airport which saves me money most of the time. But I understand that those who are SuperFat still might not find it the most comfortable. My best tip is to book a train during off-peak hours so you can try and have the seat next to you free but no promises! The armrests are moveable and try to book near the disabled toilet, it is very big and comfortable. Seat belts are not required on trains either.
Where to Stay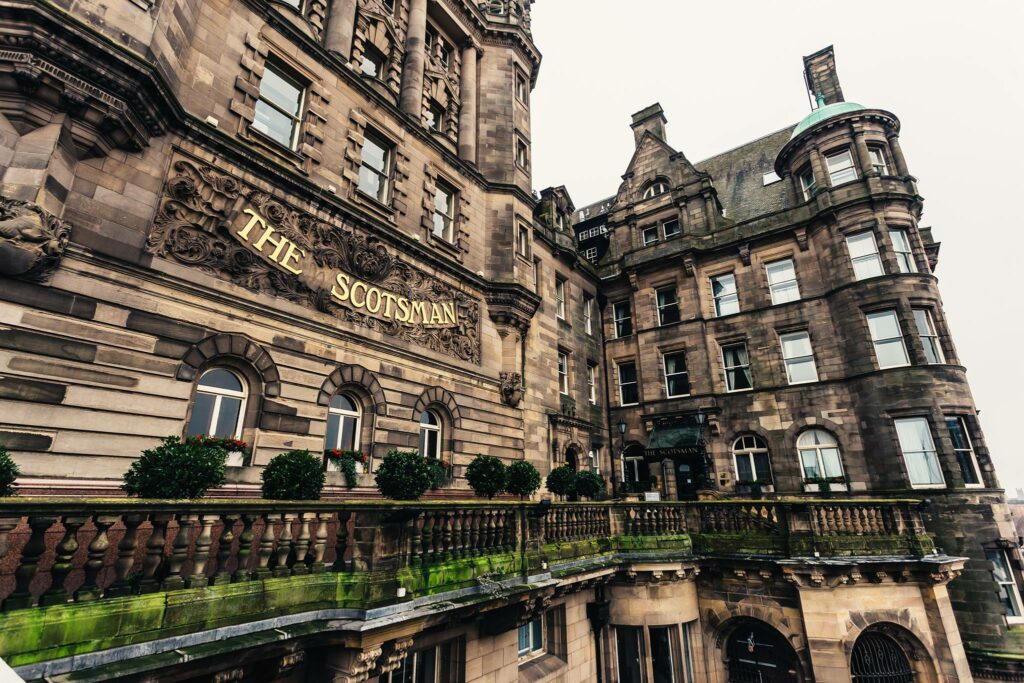 The Scotsman: I personally stayed at The Scotsman and the best part of the hotel for me was its location. Not only was it just a few minutes away from the train station but it was close to a majority of the sites including Edinburgh Castle. Request a room on a higher floor and be aware, that the elevators are small but enough for two plus-sized guests and their luggage.
Eden Lock, An Aparthotel: Set behind a grand Georgian façade, Eden Locke has just 72 apartments making it an intimate surrounding. But what it lacks in size, it more than makes up for in style and beauty.
The Witchery: You'll see this name pop up later in this guide but if you want a truly unique and opulent stay then The Witchery is for you. Steps away from the famous Edinburgh Castle, it has been called "The most glamours hotel in town" by The Independent.
Where to Eat and Drink
Edinburgh gets a bit of a reputation for not having the best food and I couldn't disagree more! The following places are all tried and tested but there was plenty that made my list that we didn't get to try!
The Devil's Advocate: Located in Old Town, The Devil's Advocate makes a delicious Whisky Sour, a Negroni (we recommend with Islay Whisky) and the food is even better! If you want to try the local delicacy of haggis but don't want a full entree, then get the Crispy black haggis, mango & chilli chutney which is deliciously sinful.
Afternoon Tea at The Witchery: A member of the Fat Girls Traveling community recommended a meal at The Witchery and it looked amazing but the Afternoon Tea spoke to us in terms of our schedule fit perfectly after an early afternoon at the castle. We recommend booking ahead.
Cold Town House: Craft beer brewed on-site, delicious Neapolitan pizzas and one of the best views of Edinburgh Castle from their Rooftop Terrace. Cold Town House also offers tasty wings and a fantastic Instagram opportunity too!
Bross Bagels: We know, going to a bagel place in Scotland… Why? Because it is delicious. If you find yourself near Instagram hotspots Circus Lane or Dean's village then have a quick stop at Bross bagels. They bring Montreal style bagels packed with NYC deli inspired fillings but get there early to avoid disappointment.
Little Larder: Perfect place to eat before you head off on your day tours, The Little Larder is part of a bigger restaurant. Set up in 2009, the aim of the Edinburgh Larder is to provide delicious, seasonal, and local food.
The Clam Shell: If you're staying near The Scotsman, then a late-night snack of a fried Mars bar and PIZZA is a must. A deep-fried Mars bar originated at a chip shop in Scotland as a novelty item and it has become a must-try when in the country. Trust me, it is worth it and if you pre-order online you can save 20% too.
What to Do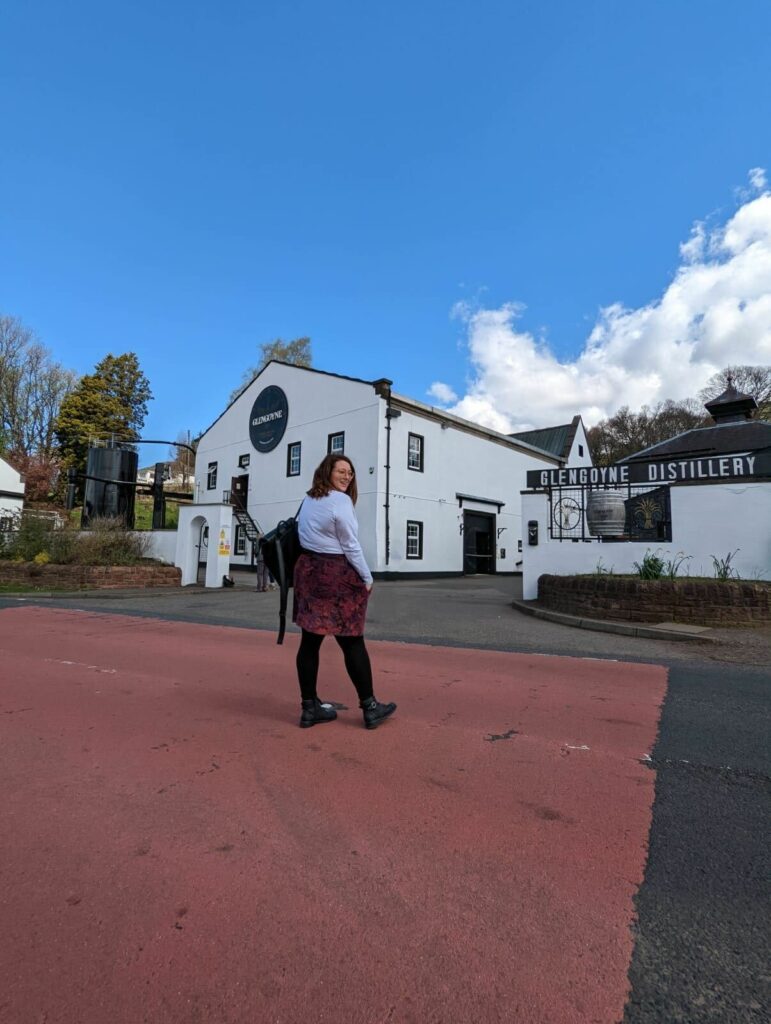 Drink on the Whisky Distillery Tour: I used Get Your Guide to book this all-day trip to visit two Whisky distilleries plus some beautiful Scottish scenery. Whisky lover or not, it was a fun experience and you learn a lot about one of Scotland's most iconic drinks. Be warned the price does not include the additional price for the tastings themselves!
See the city above at Arthur's Seat: This wasn't high on my list of activities to do when in Edinburgh as I wasn't sure if the hike would be easy and I won't lie, it was the highlight of my trip to the city! It helped that it was such a beautiful day but in terms of easiness, it does have a steep incline at the very top but it is manageable.
There are two ways you can climb to Arthur's seat, a shorter but more steep walk up grass or a gradual incline that is longer but definitely more scenic. We chose the second route and it took us about 45 minutes to walk up. My top tip is to leave early so you don't feel rushed as it isn't as crowded and make sure to bring water and a snack to enjoy at the top. Wear comfortable shoes that have a grip and layers as it can be windy at the top. For more tips watch this reel that I created!
Walk around Circus Lane: The famous Circus Lane is beautiful and this neighbourhood has much to offer. Small boutiques and shops line the streets parallel to the lane, so if you're up to going shopping, head here, it's right around the corner from Bross Bagels too!
Royal Botanic Garden Edinburgh: Spend a morning roaming the gardens and glasshouse of the Royal Botanic Garden. The interior space is stunning and makes for a picturesque experience.
Explore the Old Town: Edinburgh is best seen when you have time and are in no rush to wander its picturesque streets. The streets are layered and full of history. If wandering around on your own doesn't sound appealing there are plenty of guided walking tours you can join including a few haunted ones too!
Wander the Greyfriars Graveyard: Open 24 hours a day, it is undoubtedly one of the most famous graveyards in the world and attracts visitors day and night. For Harry Potter fans make sure to keep an eye out on some of the gravestones as a name or two might seem a bit familiar!
Discover Dean's Village: This Bucolic village is set with a stream and gardens that you can walk through for a charming visit back in time. It is a famous Instagram hotspot but is a bit out there, I recommend taking an Uber for the journey home if you don't like hills.
Take a Highlands Day Tour: If a Whisky tour isn't on your list, then make sure to take a Highlands Day Tour!
Catch the sunset at Calton Hill: One of the best views over the city, sunset from here is worth the sweaty out-of breathiness.
Visit the Edinburgh Castle: You can visit inside the castle or take in views of it from the courtyard. Make sure to purchase your tickets well in advance to avoid lines but also we'd recommend booking a guided visit as it can feel a bit pointless without some background information. On a clear day, it has amazing views!
---
Save This Post For Later On Pinterest: