It's nearly impossible for plus-size travelers to travel with just a carry-on. Our clothes simply take up too much space. However, it is essential to have a change of clothes in your carry-on along with your passport, and medications.
Flying while fat can be anxiety-inducing so we scoured all of Amazon to find the little things that will make your trip a little more enjoyable. If you're traveling soon we suggest you keep these essentials in your carry-on.
This blog post contains Amazon Affiliate Links.
The Essentials
For those of us always searching for a pen mid-flight this Passport Holder Wristlet Travel Wallet $16 will make international travel easier. There's even a spot to store your extra SIM card!
The safest place to keep your phone is close to your body and this Bandolier Emma Crossbody Phone Case and Wallet $95 is perfect for just that. The long strap keeps the phone close to you and out of your hands. There also is a spot for your credit card and ID.
Wondering where to put your drinks as you're struggling through the airport with too much luggage? Put it in this Luggage Travel Cup Holder $15 which also has a big pocket that can hold your passport until boarding.
Airlines are changing their luggage allowances and fees. Avoid luggage fees with this Luggage Scale $13.
Looking for compression socks for thick calves? Look no further than these Plus Size Compression Socks $22+.
These Really Big Plant Based and Hypoallergenic Body Wipes $12 come individually wrapped so freshen up wherever you are.
Whenever you're feelin hot, hot, hot, this Handheld Mini Fan $17 will help cool you down. It's battery-operated and also functions as a flashlight and power bank.
You never know when or where you'll need to go, so keep this Before-You- go Toilet Spray $9 handy.
This or That
The following items are necessary and come at a variety of price points. Everyone loves options, so which would you choose?
Water Bottle
This 22-oz Flat BPA-Free Plastic Water Bottle Flask $32 is shatter-proof.
Ear Plugs
These $20 Ear Plugs have more 12,000 Amazon shoppers whispering their praises.
With these Earplugs $18 you get 3 pairs. Which is perfect for people like me who ALWAYS lose one!
Eye Masks
This Sleep Eye Mask $20 was designed with a 3D-contoured shape, which means there's more space for your eyelashes.
Neck Pillow
This Neck Pillow for Travel $40 has chin support designed to help your head remain upright.
The Ostrichpillow Go Memory Foam $60 is the top-rated Luxury Travel Pillow.
Natural Sleep Aid
The blend of essential oils in the & Now To Sleep Pillow Spray $29 helps restore your natural sleep balance. Spray a few pumps onto your travel pillow and enjoy your rest.
The Good Patch Get Balance Mixed Bundle $48 are all-natural, transdermal patches. Simply peel and place the Dream Patch on the inside of your wrist for up to 12 hours and have some sweet dreams.
Eye / Face Masks
Wake up from your sky-high nap looking refreshed after wearing a pair of these 24K Gold Eye Masks $20 (30 Pairs)
We've heard this spendy Sub-Zero De-Puffing Energy Facial Mask $32 is worth every penny.
The Extras
This rotating Airplane in Flight Phone Mount $13 can mount onto the tray table, arm of a chair, or even a suitcase handle.
This Wireless Transmitter $43 connects your wireless headphones to the headphone jack on the flight so up to two people can enjoy the free entertainment.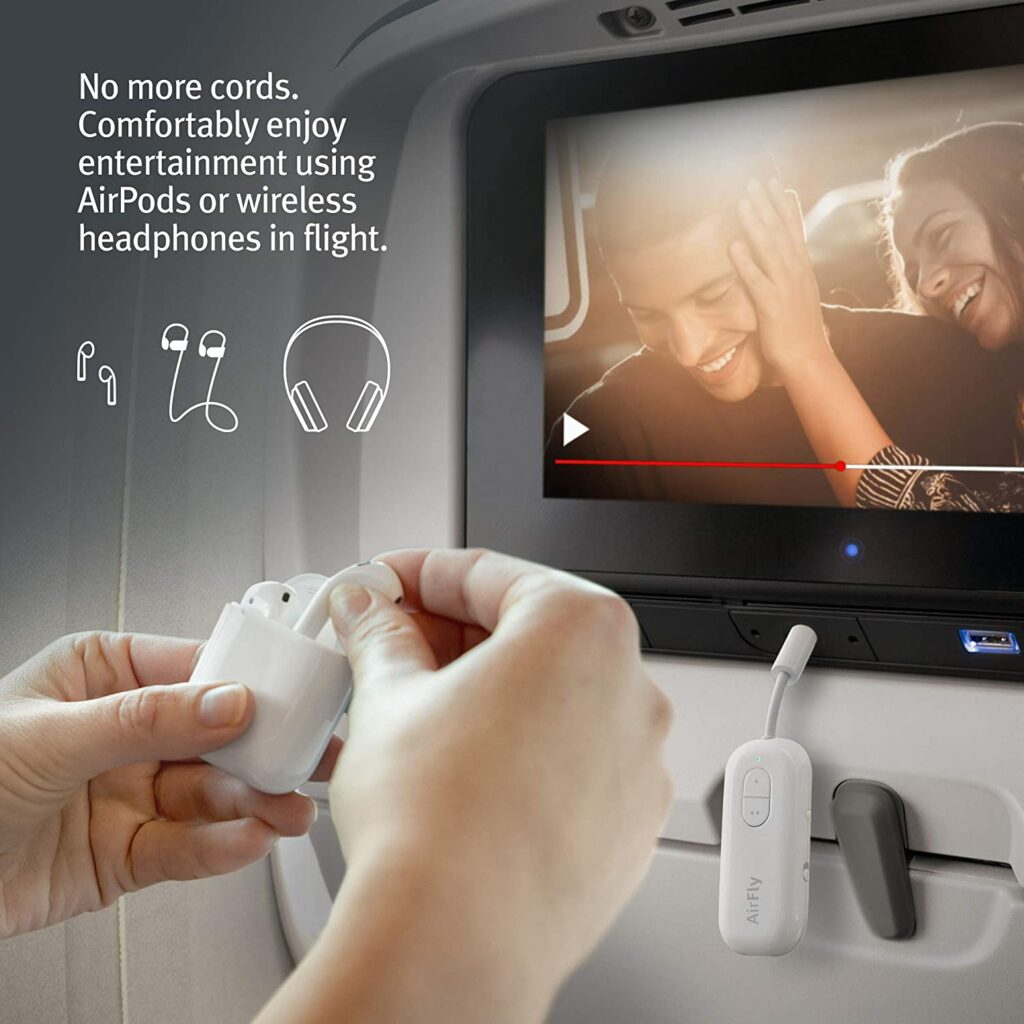 Make your mid-air happy hour more festive with these TSA-approved Margarita & Mai Tai Premium Cocktail Kits $40.
Keep your cords and cables organized and easy to access with this Electronic Cable Organizer Travel Bag $19
This Commuter Essential Bag $29 has a back flap that allows you to attach it to the airplane seat in front of you. This would be ideal for the magazine or Kindle reader. It has lots of pockets to put your in-flight essentials.
The flight is coming to an end soon and you want to look fresh and awake when you land. Head to the bathroom and spritz some Soothing Calming Facial Mist Spray $9 in your face and voilà!
This Battery-Operated Toothbrush $25 has a travel case and is just what you need after a red-eye flight. Head to the bathroom at the airport when you land and freshen up your breath with this affordable electronic toothbrush.
Wanna look so fresh and smell so clean after your flight? Ditch the perfume and opt for this Dry Shampoo $15 (Pack of 3). It will help give your hair a bit of bounce and put some pep in your step!
Heading straight to the beach/pool from the airport? This Portable Travel Razor $14 is your bestie if you forgot to shave or missed a few spots.
Did we miss anything? What essentials do you keep in your carry-on?