London is one of the top destinations in Europe and the United Kingdom due to its wide variety of things to do and history. It's a massive city made up of boroughs that all have their own identities and quirks, so depending on what type of traveller you are, there is the perfect borough for you! Keep reading to see if Shoreditch, London is the right one for you and your partner the next time you head to the Big Smoke.
Where is Shoreditch?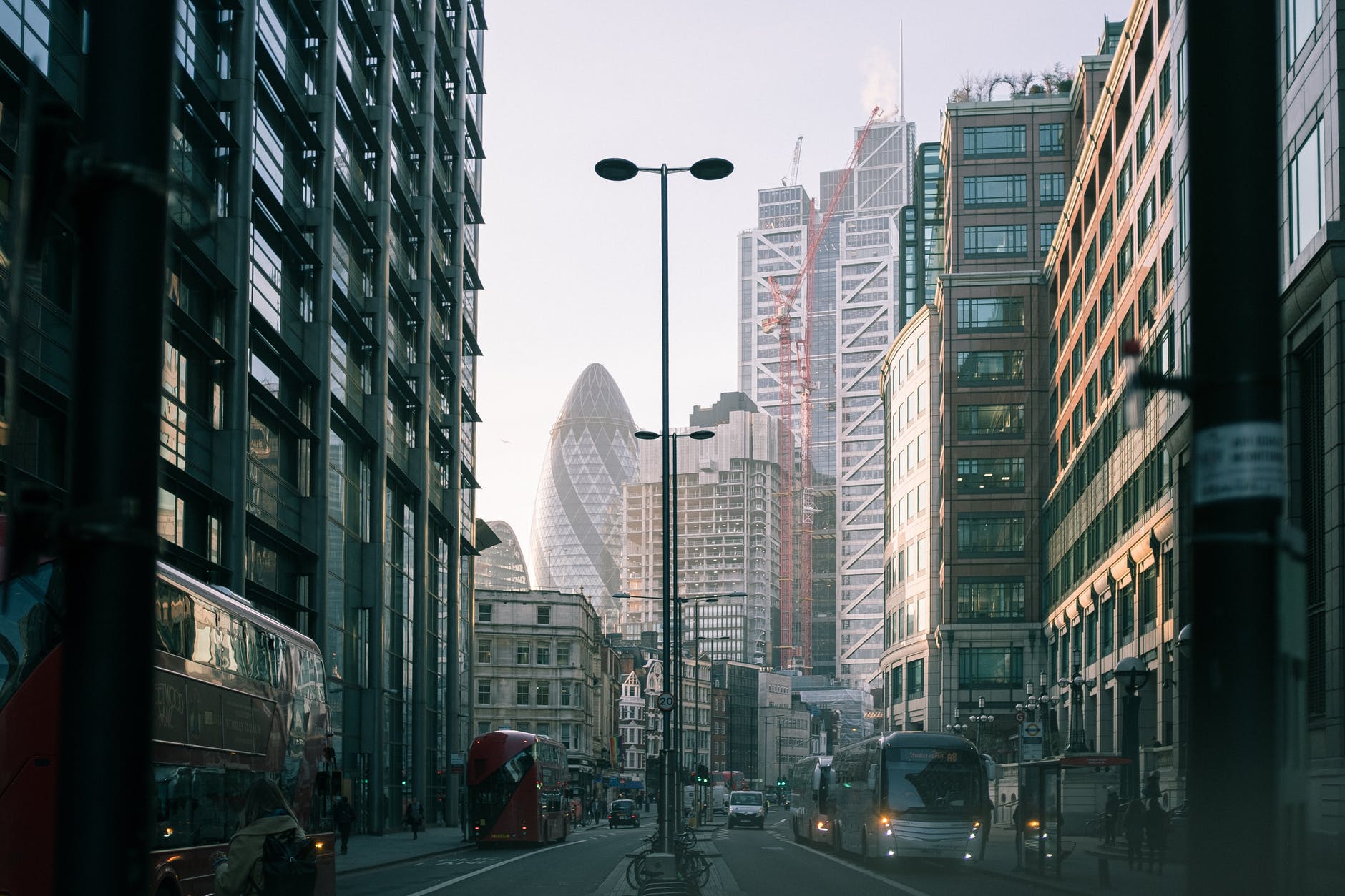 Shoreditch is one of the most trendy boroughs in London and close to London Bridge and St Paul's; it's where the Gherkin building is located! It is an art area full of some of the world's best street art and has a hip and cool demographic that frequents its streets. The area is full of Michelin star restaurants, street food markets, and eclectic bars and nightclubs. If you love vintage shopping and fantastic food, Shoreditch is perfect!
Where to Stay
Shoreditch can be done on a budget but honestly, if you can. Splurge! Some of the city's best hotels are here. Especially to ensure you get a good night's sleep!
Hart Shoreditch Hotel London, Curio Collection by Hilton
Located in a semi-quiet part of Shoreditch is the Hart Shoreditch Hotel, which is part of the Curio Collection by Hilton. The rooms are small but nicely done with bedsheets that make you feel as if you are sleeping on a cloud, making the price tag worth it. If you book ahead, you can get a great deal! The location is perfect for those who want to be a bit away from the hustle and bustle but close enough to not one but two tube stops and walking distance to Liverpool Street Station.
Where to Eat
Shoreditch is the ultimate foodie destination. If you want delicious food, then you have to go. We mentioned above that it has everything you could, from fancy cocktail bars to trendy pop-ups to Michelin guide places to eat and, of course, the plethora of tasty street food from all over the world.
Old Spitalfields Market
No matter the time of day, Spitalfields always has something going on. Not only are there a few shops but the most amazing food market in the middle of the market with cuisine options from around the world. You can't go wrong at any of the stalls, my favourite? Pleasant Lady Jian Bing Trading Stall serves one of China's most popular street food: jian bing, a crispy skin wrap stuffed with a host of savoury and authentic flavours. Be prepared to wait at busy times as each order is made fresh and takes time but is worth it.
Brat
Brat is for you if you're looking for a non-pretentious Michelin-starred meal. Flames from the stove and grill are the first thing you notice when you walk into Brat, and it takes its inspiration from the cooking styles found in the Basque country, which means that cooking over fire is the focal point in every way. We recommend sharing as there are many things that you'll want to try. Our favourite? The bread, crab toast and wine list!
Dishoom
This restaurant is a must for my partner and me whenever we go to London. They have locations throughout, but the Shoreditch one has always held a special place in our hearts. Dishoom pays homage to the Irani cafés and the food of all of Bombay. Make sure you order the house black dal; garlic nan is a must!
Beigel Place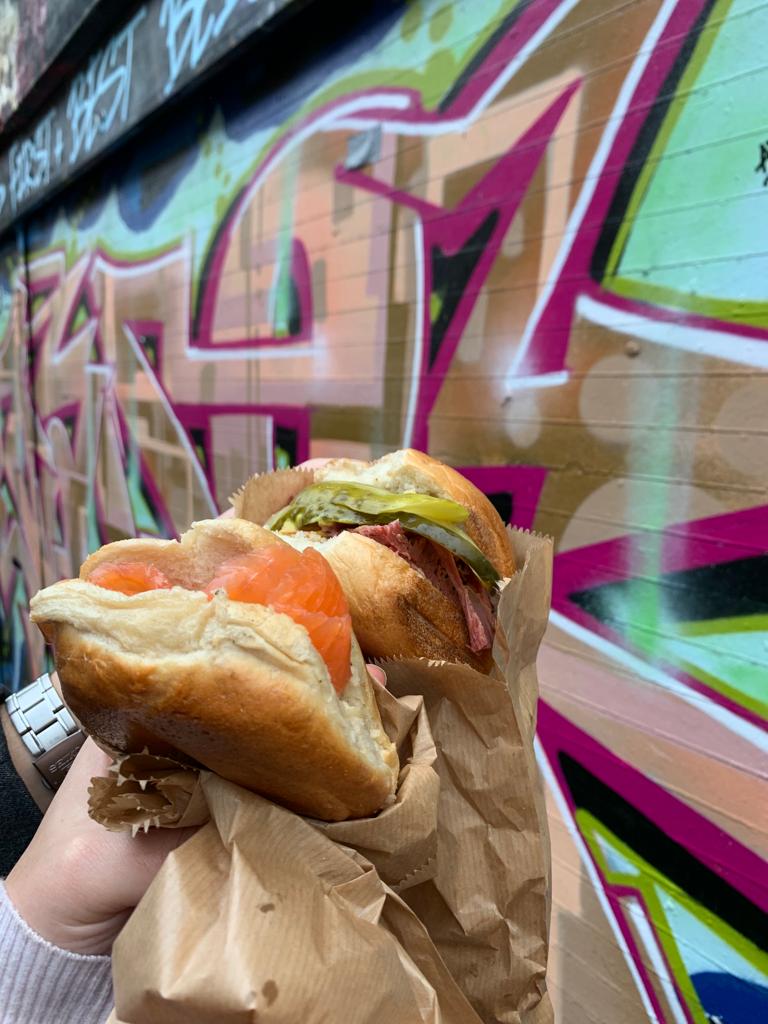 Fuel yourself for the day ahead at this cheap and friendly Beigel Place! Located right next to another iconic baigel place, there is a friendly rivalry between who serves the best beigel with cream cheese and salmon or corned beef… We love both, so why not get one of each to determine which one will be your new go-to?
Other Places To Eat
If you're looking for some other delicious places to eat, then make sure you visit the following:
Where to Drink
We loved this place so much we went back twice! This Speakeasy-style bar offers live jazz and blues nightly with some fantastic cocktails and rare spirits. Every cocktail is beautiful, and you can tell a lot of care has been put into its creation from the glassware. We recommend booking ahead!
Other Places To Drink
If you're looking for some other delicious places to enjoy a drink, then make sure you visit the following:
Things to Do
Shoreditch has a whole array of activities to do, from street art tours to a visit to The iconic Sky Garden to shopping and the Museum of the Home. If you're lucky enough to be there over the weekend, it is within walking distance to the famous Columbia Road Flower Market, which not only has beautiful flowers but is located on an idyllic road that is sure to inspire your next Instagram post. What we love most about Shoreditch is that no matter the time of year or week, there is always something for everyone. Also, its location means you can reach other parts of London easily on public transport.
If you head to Shoreditch on your next UK adventure, make sure to tag us on your travels and let us know what you did!