We love all things books but we especially love sharing erotic stories we've read. For a long time, erotic or smut books were kept on the down-low but thankfully, more women are talking about the books that get their hearts pumping and with Kindle Unlimited, it's easier than ever to find an erotic book that does the trick if you know what we mean!
We've shared the 6 erotic and romance books that should be on your radar and we're back with a next instalment but a little more erotic and a little less romantic. Be forewarned, not each of these books will be your cup of tea and that is totally okay! There's a book out there for every erotic reader… Stay tuned because we're making it our mission to share them all.
Insatiable by Daisy Buchanan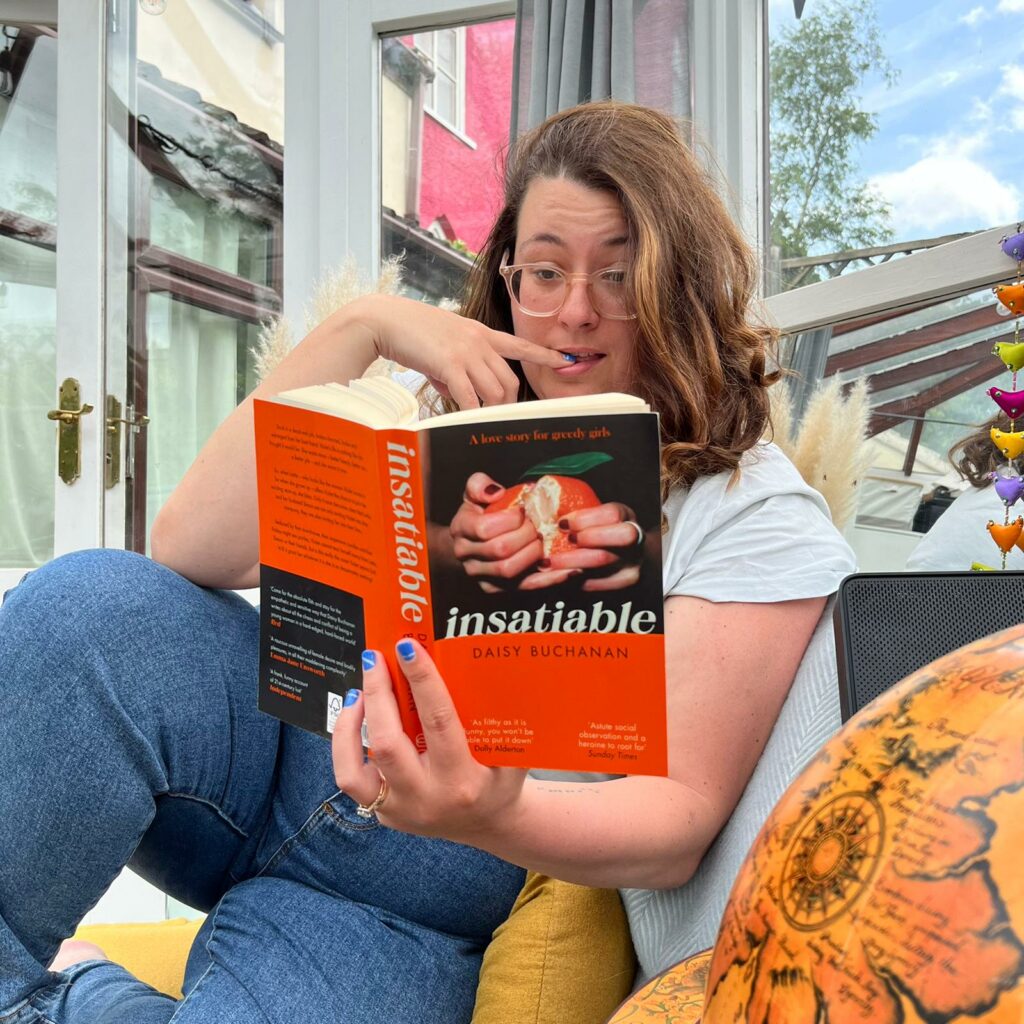 We bought this book randomly and 7 hours later, we put it down and processed the journey and ride.
This summary from Waterstones explains it perfectly:
"Stuck in a dead-end job, broken-hearted, broke and estranged from her best friend: Violet's life is nothing like she thought it would be. She wants more – better friends, better sex, a better job – and she wants it now.
So, when Lottie – who looks like the woman Violet wants to be when she grows up – offers Violet the chance to join her exciting start-up, she bites. Only it soon becomes clear that Lottie and her husband Simon are not only inviting Violet into their company, they are also inviting her into their lives.
Seduced by their townhouse, their expensive candles and their Friday-night sex parties, Violet cannot tear herself away from Lottie, Simon or their friends. But is this really the more Violet yearns for? Will it grant her the satisfaction she is so desperately seeking?"
Erotic rating 7/10
Praise (Salacious Player's Club) by Sara Cate
Full disclosure I downloaded this as part of my Amazon Unlimited subscription and I didn't have high hopes but maybe a kink has been unlocked because this book was lighting a fire that I didn't think would be lit… From Amazon:
"He calls me perfect.
His flawless pet.
His good girl.
Broken down and wounded by my emotionally neglectful ex, I wanted someone to tell me I was good enough.
Then, I stumbled into a new job with a boss who brings me to my knees—literally. He has me do things a real secretary would never do.
Emerson Grant tells me I'm more than just good enough.
I'm worthy of his praise.
There are a million reasons why I should stay away. The owner of the Salacious Players' Club is not just my new boss, he's twice my age.
And my ex-boyfriend's father.
With him, I am treasured. I am adored. I am his.
I'm a good girl, but I'm falling for the wrong man.
Emerson Grant knows what he wants—
And he wants me.
So how far will I go to hear his approval?"
Erotic rating 9/10
The Never King (Vicious Lost Boys Book 1) by Nikki St. Crowe
I discovered this book thanks to #BookTok on Tik Tok and it was a short read with a bit of fantasy, I was in from the start:
"The stories were all wrong — Hook was never the villain.
For two centuries, all of the Darling women have disappeared on their 18th birthday. Sometimes they're gone for only a day, some a week or a month. But they always return broken.
Now, on the afternoon of my 18th birthday, my mother is running around the house making sure all the windows are barred and the doors locked.
But it's pointless.
Because when night falls, he comes for me. And this time, the Never King and the Lost Boys aren't willing to let me go."
Erotic rating 8/10
His Lady Mistress by Elizabeth Rolls
This erotic novel is a little more romance than the others but it's a comfort read that not a lot of people know about and with Bridgerton being all the rage, I think you'll love this. Be swept away into a world of intense passion, lavish settings and romance that burns brightly through the centuries:
"When Max, Earl Blakehurst, meets Verity he sees a downtrodden servant. He doesn't recognize her as the daughter of a colonel under whom he used to serve, the girl he'd once helped years before. The life Verity's now living is untenable. So he proposes a shocking solution―he will set her up as his mistress.
It's only once Verity's finally agreed, once Max is beginning to lose his heart to her, that he discovers her true identity. Max is taken aback; he would never have suggested this lady become his mistress. Now, to avoid scandal, they'll have to marry!"
Erotic rating 7/10
Broken Bonds (The Bonds that Tie Book 1) by J Bree
Another one that is available for free if you have an Amazon Unlimited but this multiple book series is a slow burn… But trust us, it's worth the wait:
"After the death of my mother and her Bonded, I was relieved to find my own Bonds. I was sure everything would be okay if I had them. It wasn't. The fate of our people is in my hands and I know we're better off if I'm alone. After five years on the run, I'm caught and dragged back to face the men I ran away from. I thought I was doing the right thing. Now, I'm not so sure. North, Nox, Gryphon, Atlas, and Gabe may never forgive me but one thing is for sure. I won't ever forgive myself."
Erotic creating 7/10
What erotic books are you reading? Make sure to tell us below!
---
Save This Post For Later On Pinterest