Through our partnership with Eddie Bauer I've been able to share lots of fat-friendly camping and hiking gear. Since June is National Camping Month we wanted to share a little bit about the history of camping, a few of our favorite Eddie Bauer pieces and our Fat Girls Traveling x Eddie Bauer Discount Code!
Thomas Hiram Holding was a British tailor who popularized the idea of recreational camping. He wrote the first edition of The Camper's Handbook in 1908 and founded the Association of Cycle Campers, now the Camping and Caravanning Club.
Whether you need camping gear for long days at the beach or weekends in the wood we're sharing some fat-friendly camping and hiking essentials from Eddie Bauer. Save 25% off your entire cart using our Discount Code: EBXFGT25.
The Essentials
Feeling squeezed into a sleeping bag or tent is never an ideal camping situation. Which is why the Comfort Camper 2.0 40° Sleeping Bag is perfect! This warm weather sleeping bag was designed for plus size adventurers.
Comfort Tip: We suggest using the sleeping back on top of air mattress.
Although the primary use of any tent is for sleeping, you can use the Carbon River 6 Tent as a changing room as well.
This roomy and super strong Camp Chair is easy to carry at 13 pounds, but will support up to 400 pounds. It's exactly what you need to get comfy by the campfire.
Stay Clothed
This Movement Lux Tank Top is one of my new fat-friendly camping and hiking essentials. The stretch fabric of this racer-back tank top is super soft. It also features Eddie Bauer's FreeShade® UPF 50+ sun protection. The Mountain Ripstop Sleeveless Shirt has the same sun protection technology along with moisture-wicking.
The simple and classic Departure Easy Tank Dress is the perfect travel dress. It has built-in sun protection and is easy to dress up or down.
Prefer some arm coverage? Try the Resolution Short-Sleeve T-Shirt which is great for hiking and all things active. It has moisture-wicking fabric, features UPF sun protection, and odor control technology. The Pave The Way Short-Sleeve Shirt has all the same features however the fabric has less stretch.
Going on a fishing trip or water adventure? The Guide UPF 1/4 Snap Shirt and Guide UPF 2.0 Shirt are designed with sun protection and quick-drying fabric.
Want to add some light layers try the Solarfoil® Long-Sleeve Pullover, The Great. + Eddie Bauer The Hiking Anorak, or Quest Fleece 1/4-Zip.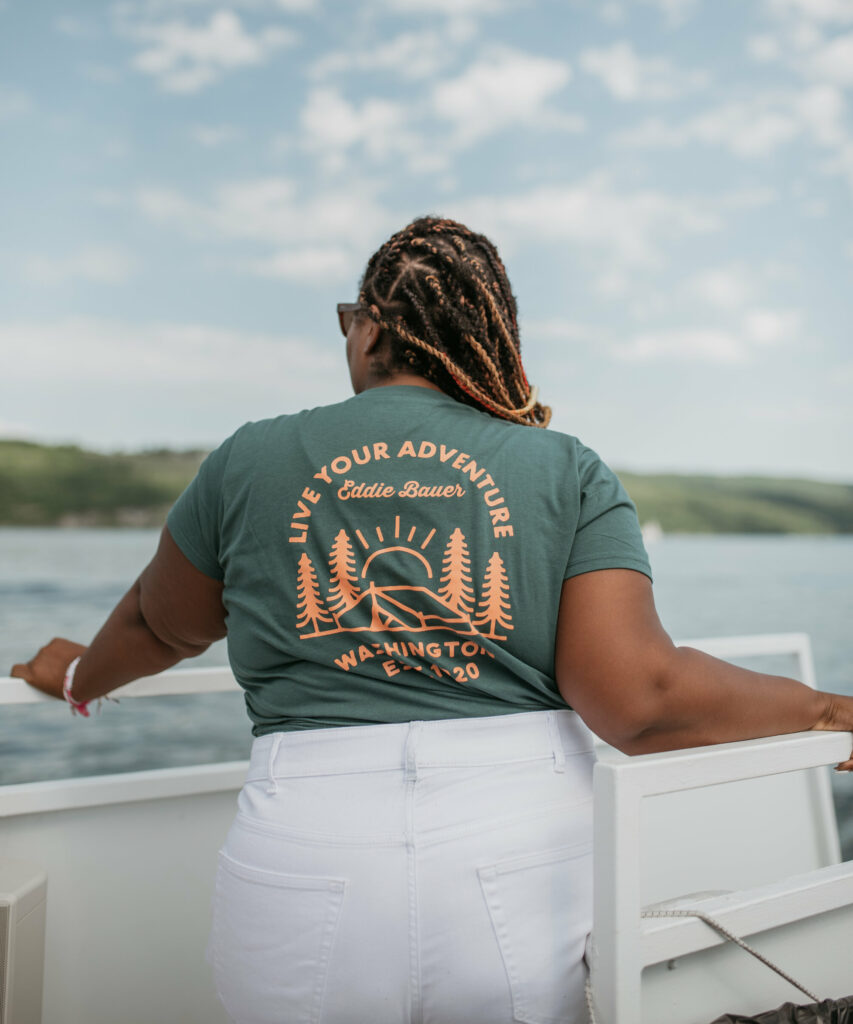 If you're looking for some shorts we would suggest the Boyfriend Rolled Shorts and the Cove Trail Shorts for casual wear. The Adventurer® Stretch Ripstop Shorts are great for a day on the trails.
No one likes to keep pulling up their pants while being active! These high rise options prevent that. The High Rise Trail Tight Leggings can be worn for leisure or hiking. It has two zippered pockets, moisture-wicking fabric that features UPF sun protection and odor control technologies. Their best-selling technical hiking and climbing pants, High Rise Guide Pro Pants are now available in a High Rise style.
Stay Dry
The weather is unpredictable so it's best to bring some waterproof options while camping and hiking. The Rainfoil® Packable Jacket is a lightweight, waterproof, and packable. Which makes it easy to stay prepared for all kinds of weather and it doubles as a compact travel pillow! The Cloud Cap Rain Jacket is a personal favorite of Sam's. While the Cloud Cap Stretch Rain Pants are a favorite of Gabi Reyes-Acosta of Treeline Review.
Stay Hydrated
Don't get parched at the park, this 24oz Double Wall Insulated Bottle can hold your favorite drink, soup, or snack. This bottle is designed to work with hot or cold beverages and keep them that way for a full day. The handle is great for attaching the bottle to a backpack. While you're on the adventure you can use one of the Hydrapak® Bottle Bright Cleaning Tablets to remove stubborn stains and odors from your bottle without soap, a sink, or scrubbing. One day it's a soup container and the next water bottle!
Stay Accessorized
These Trekking Poles are a fat-friendly camping and hiking essential. They can save your knees when coming down on a steep trail and help push you uphill. With four points of contact instead of two you feel more supported during your hike.
Hiking in warm weather? These shoes are the best opens. The The Great. + Eddie Bauer – The Daylight Sandal are perfect for summertime hikes and treks through the woods. The nylon straps hold your foot in place while the Vibram® rubber sole provides a sure grip on varied surfaces. The Hypertrail is a technical shoe that provides better control and stability when moving fast on the trail. While the Lukla Pro Waterproof Lightweight Hiker was designed for light to medium day or short overnight hiking on packed trails, while carryig a pack weighing 15-40 lbs.
If you're looking for a hiking boot try the Guide Pro Hiker with full-grain leather and mesh upper protects from both the elements and harsh trail conditions. Along with the technology to provide excellent rebound and reduce foot fatigue for all-day comfort on the trail. Or the fully weatherproof Mountain Ops Boot Hiking Boots that are built to take you further when the temperature plummets.
Shopping Tip: If you have a wide foot try on a men's hiking boot or shoe.
Extras
Keep these things ready so you don't have to get ready.
If you need sunnies, these Newport Polarized Sunglasses will be nice to have handy. Speaking of having things handy, the Wild + Wolf Wilderness Multi-Tool should be added to that list.
My new favorite bag is the Stowaway Packable Waistpack, I have it in Tearose and was surprised by how much space is left for me to adjust the sizing. The The Great. + Eddie Bauer Camano Roll Top Pack is a super fun print and the The Great. + Eddie Bauer The Sling Pack is on my list!
Let there be light with the 80 Lumen Electric Lighter Torch. This nifty little torch has a unique electric lighter built into one end to provide a quick spark when needed and a flashlight on the other end. This waterproof and rechargeable light source is perfect for camping. Don't forget to bring the 10,000 mAh Power Bank w/ Built-In Cables so you can recharge your devices!
Who are some of your favorite Fat-Friendly Hikers and Campers?