When we talk about Black History as it relates to protests and civil rights movements, the conversations are typically about the leaders behind them. However, there is one recurring "unsung hero" often being left out of the conversation: the restaurants that fed the movements.
Throughout history, Black-owned restaurants were truly a community asset during times of civil unrest and their role should not be overlooked. Often, these Black-owned restaurants provided free meals to civil rights workers and their businesses were a place for organizers, strategists, and volunteers to meet safely. Throughout the United States, some of those restaurants are still operational and continue to be pillars within their communities.
NEW ORLEANS, LOUISIANA
Opening in 1941, Dooky Chase's eventually became one of the first fine dining restaurants in The United States thanks to "The Queen of Creole" the late Leah Chase. Since their inception, Dooky Chase has been pivotal in both local and national civil rights movements. Leaders such as Thurgood Marshall, Dr. Martin Luther King, and Virginia Durr frequently met at restaurants to discuss economic rights, hardships, and change throughout the city of New Orleans.
In May of 1961, a group of both Black and white men and women also known as the Freedom Riders set out on a journey to test the US Supreme Court decision that desegregated interstate travel. The group planned the trip via Trailways and Greyhound buses from Washington, DC to New Orleans, Louisiana, where a banquet was planned in their honor at Dooky Chase's. While you can find New Orleans classics such as Po' Boys, gumbo, and red bean rice on the menu daily, they offer a changing lunch buffet in addition to dinner service.
MONTGOMERY, ALABAMA

Over eighty years after opening its doors in 1942, Brenda's BBQ is the oldest Black-owned barbecue restaurant in Montgomery. The city that just so happens to be the birthplace of civil rights. Like other restaurants during this time, Brenda's was a place for leaders to safely meet and have a meal. Jereline Bethune, the co-founder was active in movements herself including the Montgomery Bus Boycott in which her business was a gathering place for organizers. But their impact extends beyond that. It was at the back of the restaurant that Jereline taught illiterate Black residents how to read and write to help them pass the Alabama literacy test; one of the unfair barriers used to deny Blacks the right to vote.
As you place your order, you'll notice a black and white photo of Jereline participating in the march from Selma to Montgomery that led to the passage of the 1965 Voting Rights Act. The Bethunes were also particularly crucial to movements and meetings in Montgomery, as they had a printing machine and were able to print flyers for the NAACP for distribution throughout the city. Brenda's is serving up classic BBQ dishes, but they are known for their pig ears and barbeque.
ATLANTA, GEORGIA
Also established in the 40s, James and Robert Paschal expanded into Paschal's Motor Hotel and Restaurant quickly becoming the Atlanta epicenter for civil rights meetings, strategy sessions, and more. Interestingly, it is said that room 501 of the hotel was the room where civil rights marches were planned. The restaurant also fed protesters throughout Atlanta who had been arrested and jailed for free. Although the hotel is closed, customers near and far are still flocking to Paschals for their famous fried chicken made with Robert's secret recipe.  
WASHINGTON, D.C.
The world's oldest soul food restaurant can be found at the intersection of 11th street and Florida Avenue in Washington, DC. It is at this corner restaurant, Florida Avenue Grill that Dr. Martin Luther King Jr. ate before the famous March on Washington in 1963. Opened in 1944 by Bertha and Lacey C. Wilson Sr, guests can request to sit in the very booth that Dr. King dined at. The Fish & Grits breakfast is a fan favorite! 
WASHINGTON, D.C.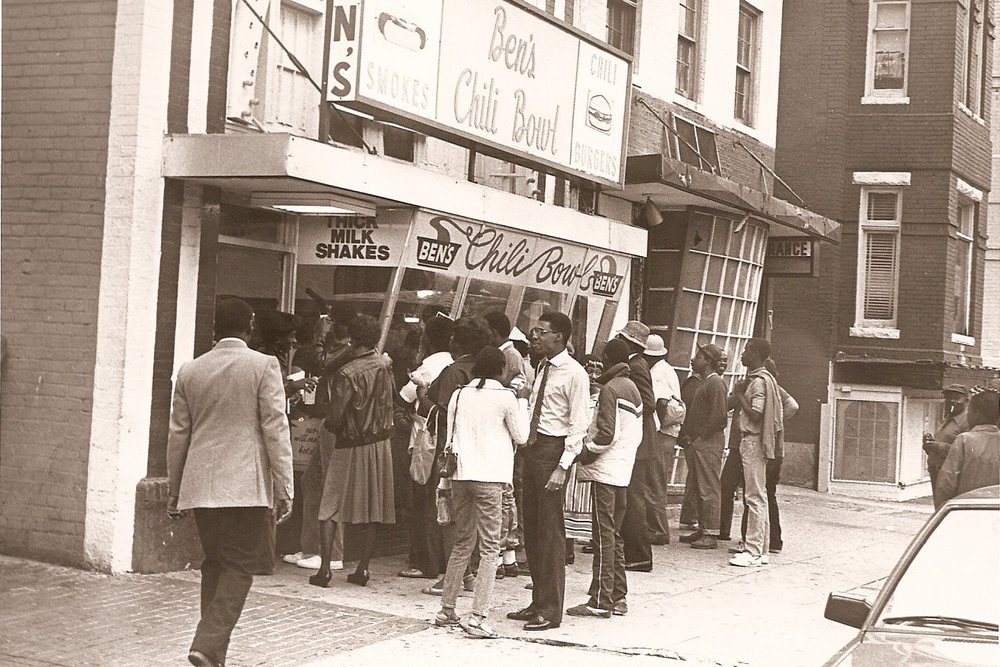 While in DC, another noteworthy establishment is the famous Ben's Chili Bowl. In 1968, the city found itself swept in unrest as riots broke out in response to Dr. Martin Luther King Jr's assassination. Instead of closing and fleeing to safety, owners Ben and Virginia Ali remained open at the junction of Stokely Carmichael, leader of the Student Nonviolent Coordinating Committee or SNCC. Protestors, service officers, civil rights leaders, firefighters, and police officers found themselves at Ben's Chili Bowl in receipt of a hot meal. The chili cheese dogs and the popular half smoked dish can not be missed!