If you're looking for a collection of memoirs, fiction, and even poetry by fat people for fat people then look no further than this list!
Her Body and Other Parties by Carmen Maria Machado
What it's about:
Her Body and Other Parties is a 2017 short story collection by the writer Carmen Maria Machado who demolishes the borders between magical realism and science fiction, comedy and horror, fantasy and fabulism.
A wife refuses her husband's entreaties to remove the mysterious green ribbon from around her neck. A woman recounts her sexual encounters as a plague spreads across the earth. A sales clerk in a mall makes a horrifying discovery about a store's dresses. One woman's surgery-induced weight loss results in an unwanted house guest. A dark, shimmering slice into womanhood, Her Body and Other Parties is wicked and exquisite.
---
#VERYFAT #VERYBRAVE by Nicole Byer
What it's about:
Actress, comedian, and podcaster extraordinaire Nicole Byer's guide to being a #brave, bikini-wearing badass.
If you've ever seen a fat person post a bikini shot on social media, you already know that they are #verybrave, because apparently existing in a fat body in public is #brave. Nicole Byer, wrote this book to not only share her impressive bikini collection and hot body with the world but with the aim to help other people feel #brave by embracing their body as it is. In this book, she shares her journey to becoming #brave, how to find the perfect bikini, how to handle haters—and serve you over 100 bikini looks.

---
Dietland by Sarai Walker
What it's about:
Dietland was the debut novel by Sarai Walker that was first published in May and is now a hit show on AMC. In Walker's book, you're introduced to Plum Kettle who does her best not to be noticed because when you're fat, to be noticed is to be judged. Or mocked. Or worse. With her job answering fan mail for a popular teen girls magazine, she is biding her time until her weight-loss surgery. Only then can her true life as a thin person finally begin.

Dietland is part coming-of-age story, part revenge fantasy novel that takes on the beauty industry, gender inequality, and our weight-loss obsession from the inside out and with fists flying.

---
Fat Girl Finishing School by Rachel Wiley
What it's about:
Rachel Wiley, an author who holds many intersecting identities has written Fat Girl Finishing School as a love letter to her living body. When confronted with fatphobia, racism, misogyny, and shame each poem chooses self love, despite society's expectations of conformity.
---
Happy Fat: Taking Up Space in a World That Wants to Shrink You by Sofie Hagen
What it's about:
In Happy Fat, comedian Sofie Hagen shares how she removed fatphobic influences from her daily life and found self-acceptance in a world where judgement and discrimination are rife. From shame and sex to airplane seats, love and getting stuck in public toilets, Sofie provides practical tips for readers.
Part memoir, part social commentary, Happy Fat is a funny, angry and impassioned look at how taking up space can be radical, emboldening and life-changing.
---
Hunger: A Memoir of (My) Body by Roxane Gay

What it's about:
New York Times bestselling author Roxane Gay has written with intimacy and sensitivity about food and bodies, using her own emotional and psychological struggles as a means of exploring our shared anxieties over pleasure, consumption, appearance, and health.
In Hunger, Gay casts an insightful and critical eye on her childhood, teens, and twenties-including the devastating act of violence that acted as a turning point in her young life and brings readers into the present and the realities, pains, and joys of her daily life. Gay explores what it means to be overweight at a time when the bigger you are, the less you are seen.
---
The Unapologetic Fat Girl's Guide to Exercise and Other Incendiary Acts by Hanne Black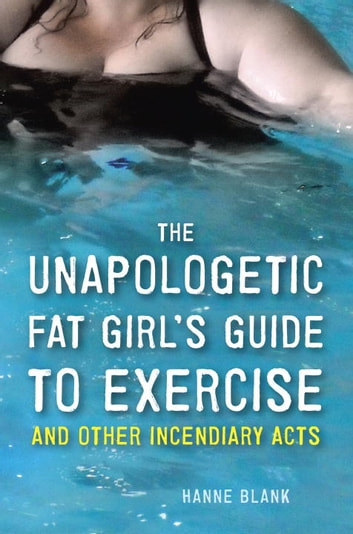 What it's about:
Hanne Blank—a fellow plus-size girl who's been there and has the worn-out sports bras to show for it—will help you discover an activity that works for you no matter what your size or current fitness level.
Whether you choose to do yoga, pump iron, walk your dog, play Wii Fit, hire a personal trainer, or just run errands by bicycle, Hanne will provide specifically tailored advice on how to source plus-size work gear to fighting fat prejudice and uninvited comments and more.
---
Let us know in the comments if you've read any of these books below and keep your eyes peeled for our next list of books by fat people for fat people!