We asked our Facebook Community members to share their favorite holiday recipes and Thanksgiving desserts. They spilled some family secrets sharing grandma's cookie recipes, along with holiday favorites from breakfast to Puerto Rican Coquito.
Take note of these member-approved Thanksgiving desserts, sides, and cocktail recipes.
---
Breakfast
---
Sausage Balls
This Sausage Balls recipe remind me of Christmas morning. They are easy to make and pair wonderfully with a fruit compote and mimosas. – Rachel L.
1 lb Jimmy Dean sausage,
1 cup Bisquick
2 cups sharp cheddar shredded cheese.
Mix, and bake at 350 for 18-20 minutes, or until golden on top.
---
Sides
---
Green Beans with Almonds and Caramelized Shallots
¼ cup blanched slivered almonds
3 TBS butter
5 shallots, thinly sliced
1 red pepper, chopped
2 TBS white sugar
Salt and pepper to taste
1 ½ LBS fresh green beans, trimmed and snapped (I usually buy the fresh steam in bag ones)
Step #1: Place the slivered almonds in a dry skillet over low heat, and cook and stir constantly until the almonds are lightly toasted, 3 to 5 minutes. Watch carefully, because they burn easily. Remove the almonds and set aside.
Step #2: Heat butter in a skillet over medium-low heat, and cook and stir the shallots and red bell pepper until softened, about 8 minutes.
Step #3: Sprinkle the shallot mixture with sugar, salt, and pepper, and reduce heat to low. Cover, and cook slowly, stirring occasionally, until the sugar dissolves and the shallots caramelize, 5 to 8 minutes.
Step #4: Place a steamer insert into a saucepan, fill with water to just below the bottom of the steamer, and bring the water to a boil.
Step #5: Add the green beans, cover, and steam until just tender enough to pierce with a fork, 7 to 8 minutes.
Step #6: Drain the green beans then place them into the skillet with the shallot mixture, mix well, and gently stir in the toasted almonds.
---
Roasted Butternut Squash Lasagna
This butternut squash lasagna is AMAZING – makes a great side or a vegetarian main for a holiday/winter meal! – Alison Y.
---
Crockpot Corn
I joke that my legacy will be Crockpot Corn since we don't have kids and the recipe gets shared often! – Beth R
For every 2 pounds of frozen corn, add 1 package/8 oz of cream cheese, 1 stick of butter, and salt and pepper to taste.
Cook in your crock pot on high for 2 to 3 hours or low 5 to 6 until everything is hot and melty.
Stir well before serving. It's so simple but so good!
---
Sweet Potato Casserole
This is my mom's sweet potato casserole. It's one of a my favorite Thanksgiving desserts, but we eat it as a regular side at Thanksgiving and Christmas. I can't imagine a holiday meal without it. – Kelly K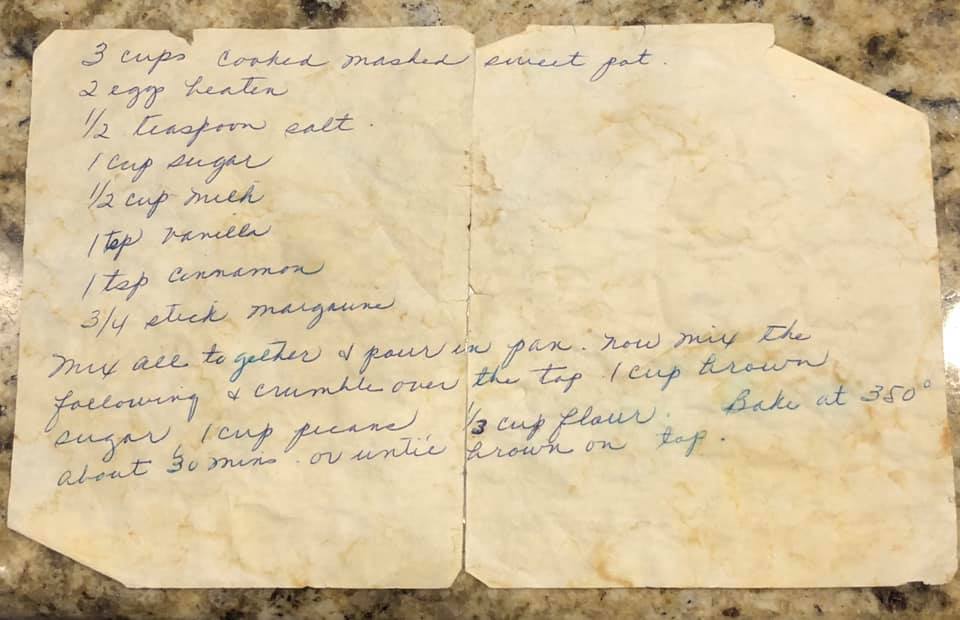 ---
Desserts
---
Cranberry Fluff
My mom makes a delicious cranberry fluff. It's yummy fluffy cranberry sauce in a cold marshmallow fluff that's light and one of the easiest Thanksgiving desserts to make. – Melodie D.
One can of cranberry sauce or homemade sauce about 10 to 12 oz.
2 tubs of Cool Whip
1 small bag of mini marshmallows
Mix everything together and chill for a few hours. You can add other fruit or nuts but we like it plain like this. Trust me, it's super light and fluffy and has a beautiful color as well!
---
Grandma's Chewy Molasses Cookies
This is my Grandma's Chewy Molasses Cookies recipe. I like to decorate them with white chocolate and sprinkles. These babies won the cookie contest at my local fat-girl holiday meetup last year! – Alyssa G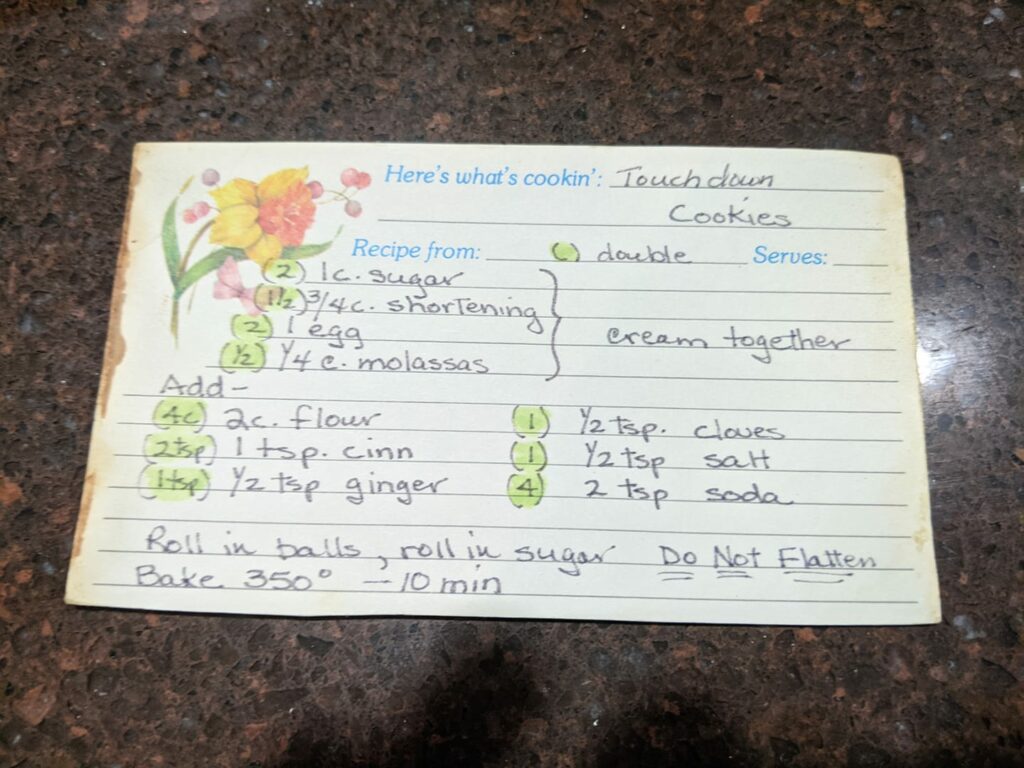 ---
Butter Toffee
For my mom's Butter Toffee recipe you'll need a candy thermometer. – Deanna K.
1/2 cup butter (unsalted)
1 cup sugar
1/4 cup water
1/2 teaspoon salt
1/3 cup finely chopped pecans and extra for dusting on outside
Hershey chocolate bars about 12 oz per batch
Put all of the ingredients in saucepan and bring to 295 ( hard crack). Stir constantly after it starts boiling. I like to hold it there for just a minute to get a richer flavor. Stir in the 1/3 cups of pecans right away then pour everything onto a lightly greased or buttered cookie sheet. Melt about 6 ounces of chocolate and spread on cooled toffee. Then sprinkle with half of the remaining pecans. Wait 8 hours minimum to flip and repeat the chocolate and pecan topping on other side. To get the right flavor Hershey's chocolate is a must!
My family makes these Mexican Wedding Cookies every Christmas. – Christina C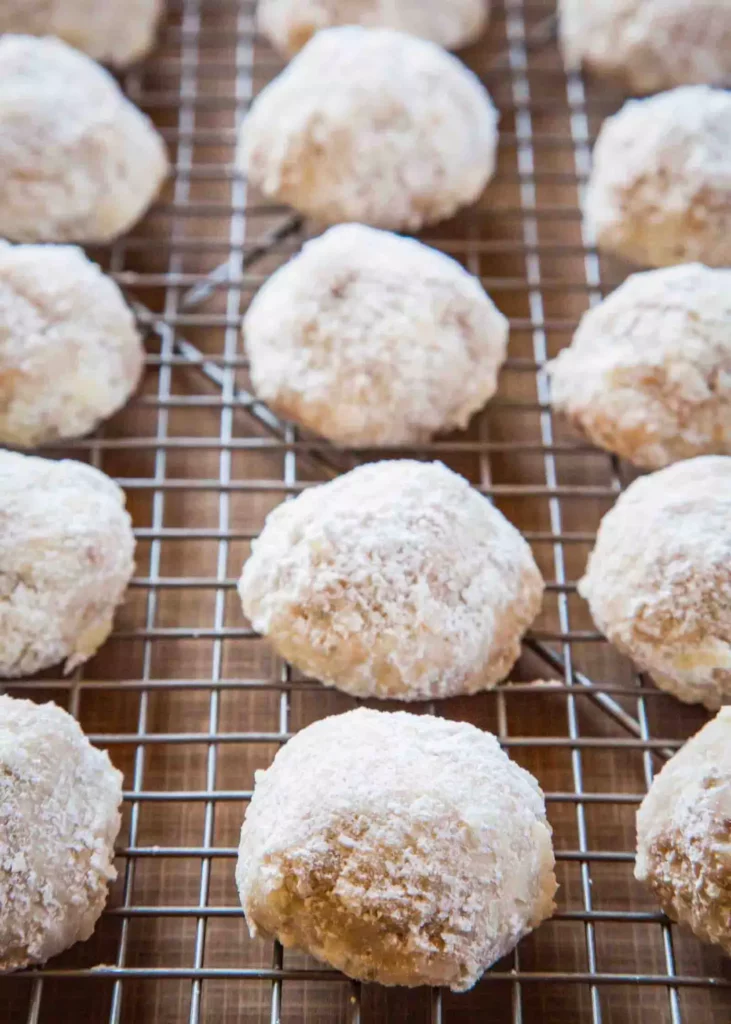 ---
Pebber Nodder aka Danish Christmas Cookies
I make these Danish Christmas Cookies every year. – Claudette E.
1 cup butter
1 cup sugar
2 eggs
2 ½ cups all-purpose flour
1 teaspoon ground cardamom
1 teaspoon ground cinnamon, or to taste
Step #1: Preheat the oven to 350 degrees F (175 degrees C).
Step #2: In a large bowl, mix together the butter and sugar until smooth. Beat in the eggs one at a time, stirring until light and fluffy. Combine the flour, cardamom and cinnamon; stir into the sugar mixture just until blended.
Step #3: Separate the dough into 6 balls, and roll each ball into a rope about as big around as your finger on a lightly floured surface. Cut into 1/2-inch pieces, and place them on an ungreased baking sheet.
Step #4: Bake for 10 minutes in the preheated oven until lightly browned. Cool on baking sheets for a few minutes, then transfer to wire racks to cool completely.
---
Grandma Dolores's Sugar Cookies
My grandma's cookie recipe from a family cookbook my sister put together. We used to make these every year growing up. – Jena R.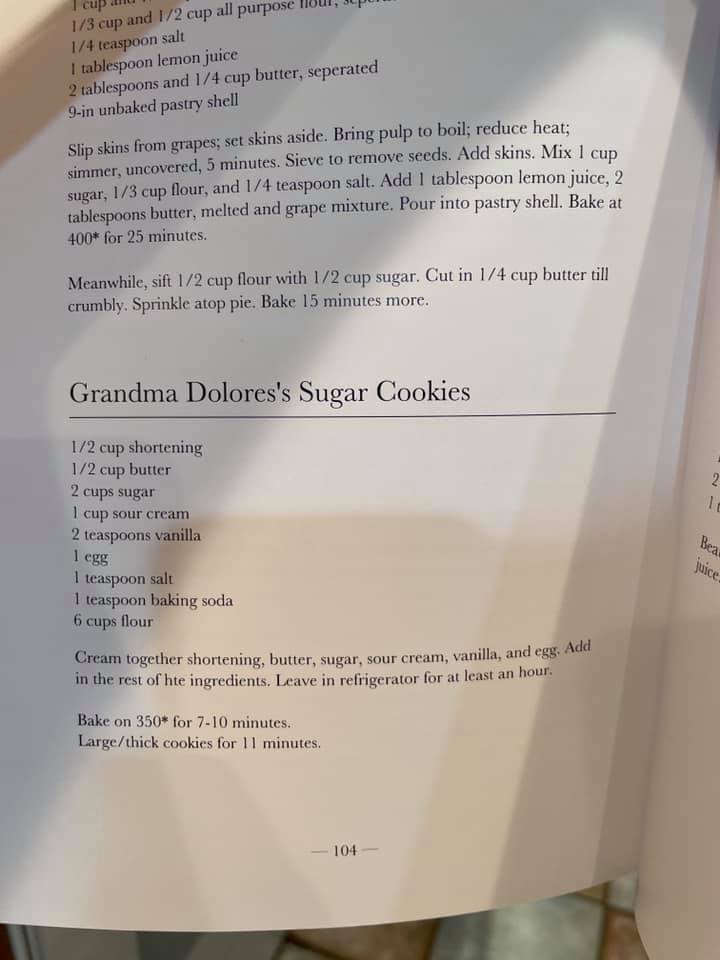 ---
These are my most requested holiday cookie every year. – Amy S.B.
---
Cocktails
---
Mr. Narwhal
We make this a cocktail and measure nothing. Mix strong ice coffee (I brew my normal coffee and chill), heavy cream, Eggnog, and about 2 ounces of rum (but we don't judge). Combine all ingredients in a shaker with ice, shake well, and strain into glasses of your choice. Top with whipped cream if you like. We call it the Mr. Narwhal after Elf. We only make it at Christmas because of the availability of eggnog.
– Tanya J.
---
I want to add this high propulsion eggnog to my annual traditions. – Rachel L.
---
Coquito
As a good Puerto Rican it's not Christmas without Coquito. There are MANY ways that people make it and every family has there own method (and measurements) this is mine.
2 cans of Evaporated Milk
1 can Cream of Coconut
I can of Coconut Milk
1/2 cup of Sweetened Condensed Milk
1 tsp of vanilla extract.
Now here's where the recipe becomes about personal taste. I do it both with and without rum for the drinkers and teetotalers in my life. I like enough rum that you get a hint of it, not a pronounced flavor of rum. For me that's about 3/4 cup light rum per batch. Cinnamon: I love it and I tend to be heavy handed with it when whisking and blending. In addition I put 3 cinnamon sticks in each bottle I make. But that's entirely up to you. Some just garnish with cinnamon when serving. At a minimum you need the sticks in the bottle for the overnight chill and fermenting.
I put all the ingredients (except the rum) in a mixing bowl and hand whisk it. Then I pour it into a blender, add the cinnamon and slow pour the rum in as blending on medium-high speed. Pour into bottles and put it in the fridge (for me at least 12 hours and usually I make it a day or 2 before I want to drink it so it has time to really sit and ferment). Shake the bottle really well before serving and enjoy! – Dalissa V.
---
Did your favorite Thanksgiving desserts make this list? Share some of your favorite holiday dishes in the comments.