Let's face it, 2020 has redefined how many of us dress for work. Whether we are working from home or still heading into the office our wardrobe choices have changed. Style and comfort are at the top of our list and we're sure we haven't been the only one asking ourselves… What can I wear that I feel good and comfortable in?
Dia&Co ambassador and our Editor-in-Chief Annette invited contributors Sam from Some Call Me Adventurous and Samantha to try Dia&Co for the first time and create work ready looks for $100 or less. Sam has been working from home for years as a remote worker and Samantha is still working from the office.
Keep reading and see how both women created winning looks with Dia&Co and how you can safe 15% on your first purchase and one reader will win a $100 Dia&Co credit!
The below items were gifted but does not impact our review.
Work From Home Tips From Sam
I've been working from home since 2017, so I'd like to think I'm an expert on how to make your home a perfect place to get your job done. The nice thing about WFH is the fact that, if you want, you can literally hop out of bed in whatever you're wearing and start your day. Yes, I am one of these people. I usually don't have the extra energy in the morning to put on something super nice for work, especially when I'm just going to be sitting at a desk or couch all day.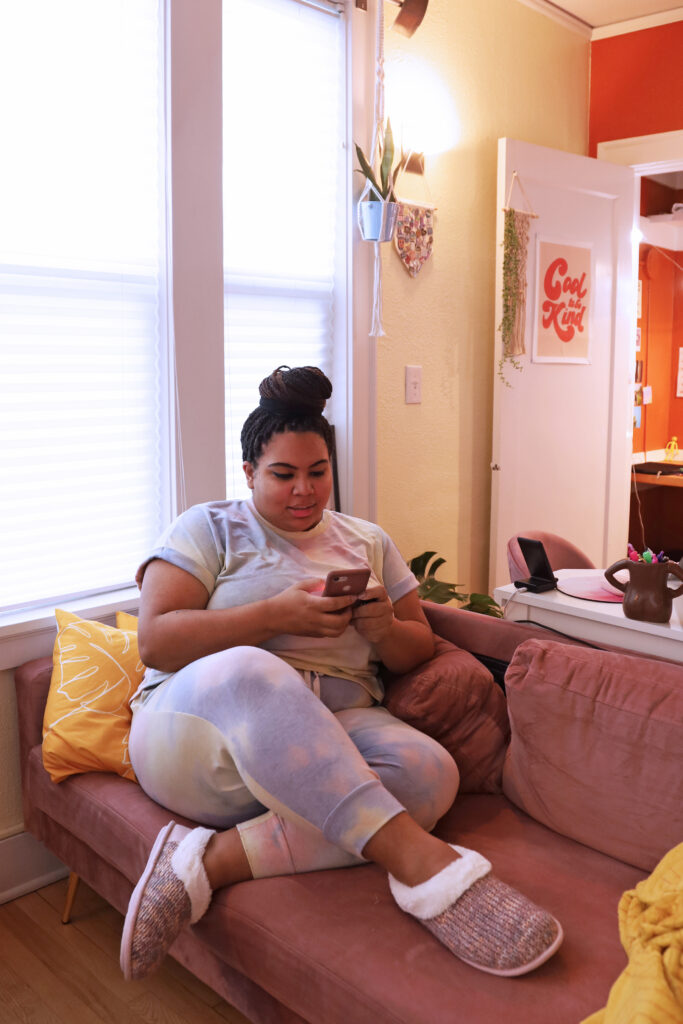 What I really try to do is make sure my loungewear and sleepwear (if I'm being honest) can double as something cute for Zoom calls. As many companies go remote this year due to the pandemic, many bosses know their employees are wearing business on the top and loungewear on the bottom. Thankfully, Dia&Co has a wonderful range of loungewear and activewear that can trick your coworkers into thinking you made an effort when you probably just rolled out of bed.

Colorful Office Look from Samantha
My job is a little unconventional – I work as a development manager in a public botanic garden in Texas, so I'm outside in the garden half the time but inside my office and at (socially distanced these days) events the rest of the time. My clothes can't be too stuffy but need to be professional enough to be in both realms easily. I'm also what southern women politely describe as "colorful" so I enjoy rocking fun prints and being a little daring with my fashion choices. Just because you're at work doesn't mean you have to stop being sassy!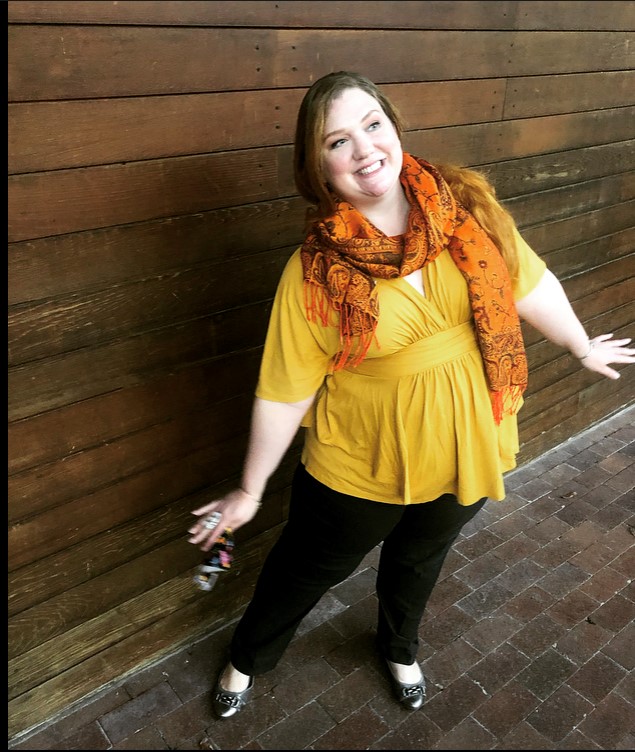 My favorite outfit I put together using Dia&Co is the mustard Top by Kiyonna that I paired with my new favorite go-to work pant, the Prescott-New York Coventry Trouser in charcoal. Mustard is one of my happy-colors. I feel like people either love or hate it, but it's always a conversation-starter. This top could be dressed down for happy hour in the evening with cute skinny jeans. The pants fit SO WELL. They're stretchy but sharp and that's exactly what I need.
I wore this look with one of my own scarves and classic Anne Klein pewter flats.
Shopping & Style Box
I was happy to learn that in addition to having a Dia Stylist send a Style Box. That I could shop and order directly from the site now. I really enjoyed browsing through what Dia&Co had to offer. The categories were laid out to make searching for what I needed easy and quick. The models are actually plus-size, so it wasn't going to be a surprise upon arrival of what it would look like on my body.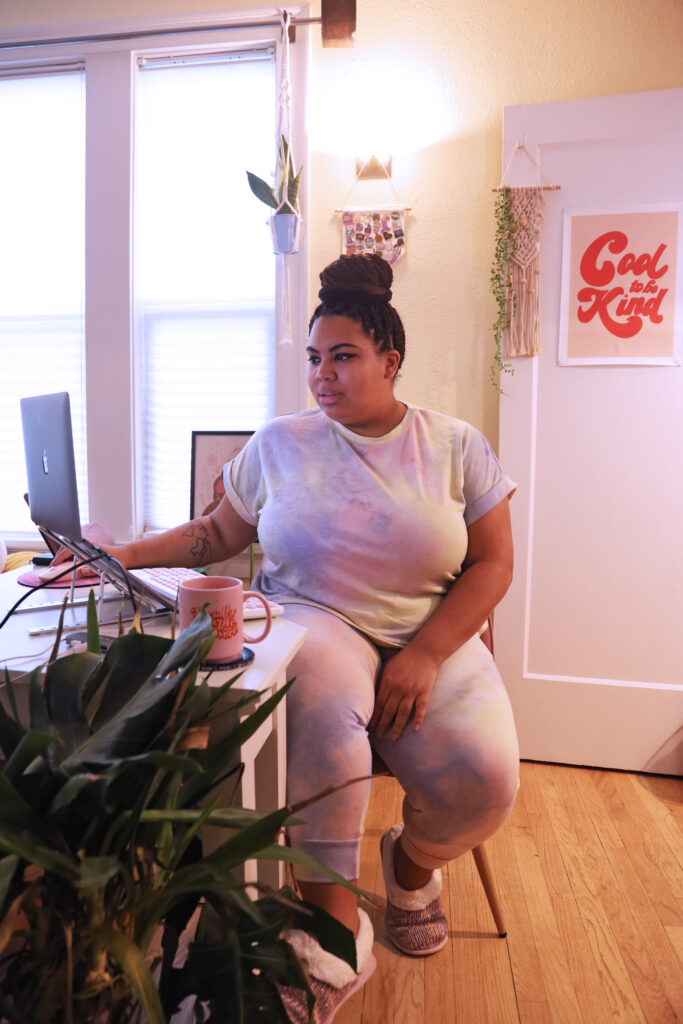 I was immediately drawn to this tie-dye set. It looked super comfy and had both a top and jogger bottoms to rock. When it arrived, it was the most cozy thing ever! It's become one of my favorite looks to wear to work (and bed) now. I've even gotten compliments on the top from my coworkers in video meetings. Little do they know that I woke up like this!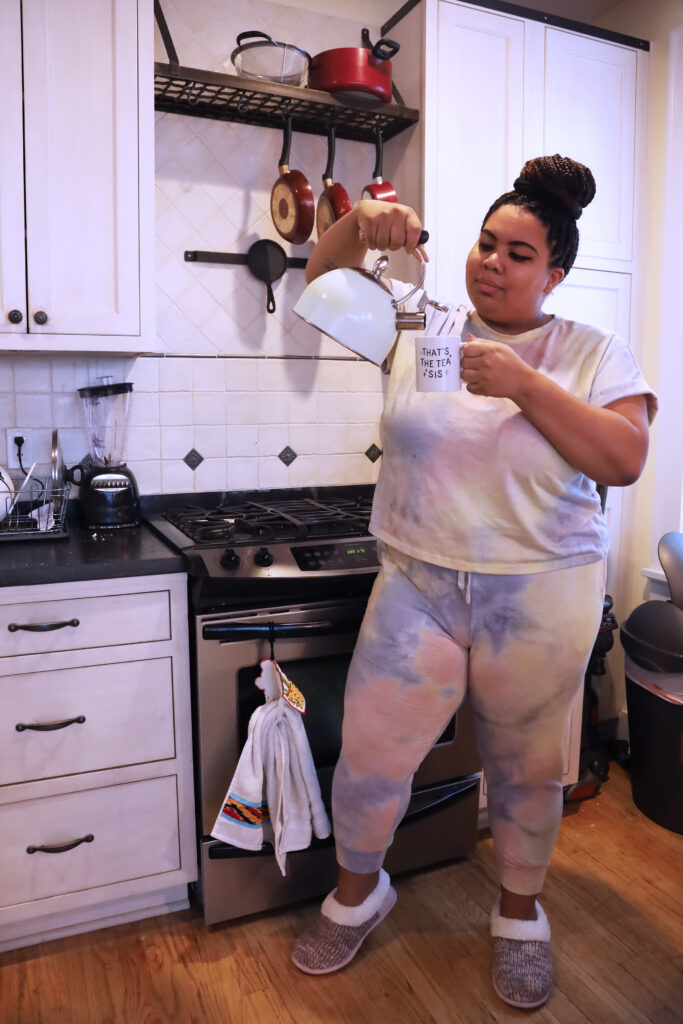 Affordable Classics
It was a pleasure of trying out Dia&Co's Style Box for the first time and truly, it lives up to the hype. I took advantage of both online shopping and the stylist because I was in serious need of some new fall pieces to wear to work! So full transparency, I went outside of the $100 budget.
Bobeau is an affordable brand I shop regularly, so I knew I would love this "Becky" cardigan. The plaid feels trendy without seeming like I'm an extra on Outlander. The fabric is deliciously soft and warm. I paired it with my own burnt orange swing top and the charcoal trousers that I will love forever and need in every color.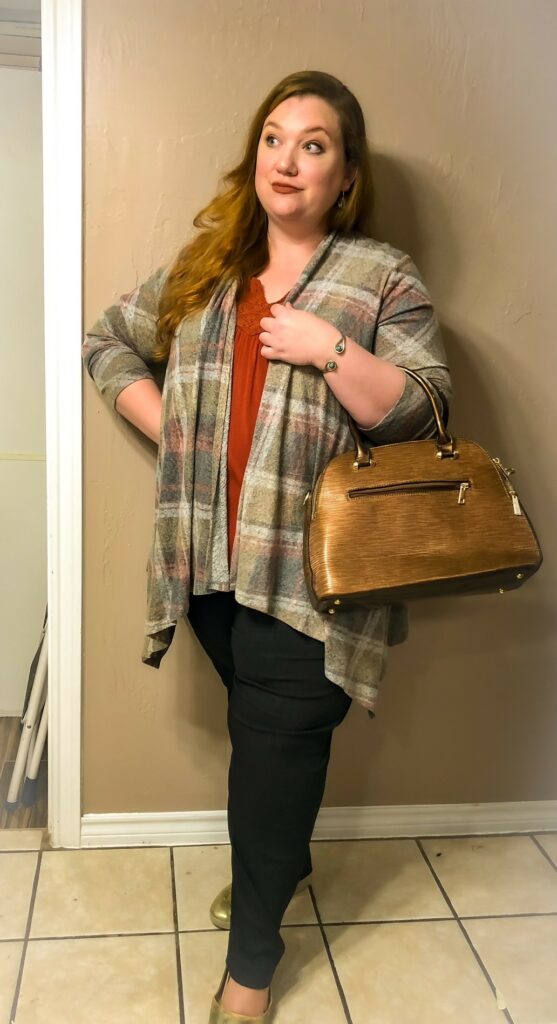 I could also wear this sweater on work-from-home days too with a soft tank and yoga pants and it would still snap.
Discount Code & Giveaway
Shop Dia&Co and save 15% on your first purchase from the shop with the code: fromannettewithlove15. Enter to win a $100 Dia&Co credit by commenting below and following the three steps on our Instagram post. Giveaway ends 23 December 2020 at 11:59 PM EST and is only available to those who are over 18 years of age and located in the United States of America.
Be sure to check out Dia&Co if you are US based and if you get anything, please tag us and use the #FatGirlsGuide so we can see your work looks!